Estoril GP3 test: Alex Lynn and Carlin dominate on second day
| | |
| --- | --- |
| | Friday, March 28th 2014, 16:50 GMT |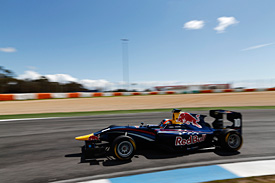 GP3 rookie Alex Lynn and his Carlin team dominated the second and final day of GP3 testing at Estoril on Friday.
The Briton, joining the series after finishing third in the Formula 3 European Championship, topped both the morning and the afternoon sessions from team-mate Emil Bernstorff.
Lynn's best time of 1m28.553s, set in the afternoon, was the benchmark, as both him and Bernstorff were the only drivers to break into the 1m28s barrier.
Jimmy Eriksson was the first non-Carlin driver in third for Koiranen, while Roman de Beer put the Trident car fourth in the timesheets. Another Carlin driver, Luis Sa Silva, completed the top five.
The session started on a wet track following the overnight rain, but drivers were able to switch to Pirelli's medium tyres at the midway point.
A total of five red flags interrupted the action, the first caused by Robert Visoiu in the morning when he spun and stopped on track.
Yesterday's pacesetter Dino Zamparelli stopped on the circuit twice during the day, while Santiago Urrutia and Melville McKee caused the other two stoppages.
Spaniard Roberto Merhi was the only new face in the test today, joining Status in place of Richie Stanaway.
The next GP3 test will take place at Jerez on 10-11 April.
Morning times

Pos Driver                 Team            Time      Laps
 1. Alex Lynn              Carlin          1m29.266s  25
 2. Emil Bernstorff        Carlin          1m29.489s  34
 3. Dino Zamparelli        ART             1m29.583s  31
 4. Melville McKee         Jenzer          1m29.609s  27
 5. Nick Yelloly           Status          1m29.682s  32
 6. Marvin Kirchhofer      ART             1m29.700s  47
 7. Jimmy Eriksson         Koiranen GP     1m29.816s  22
 8. Alex Fontana           ART             1m29.898s  28
 9. Robert Visoiu          Arden           1m29.929s  34
10. Roman De Beer          Trident         1m30.138s  30
11. Jann Mardenborough     Arden           1m30.292s  30
12. Patric Niederhauser    Arden           1m30.302s  31
13. Luis Sa Silva          Carlin          1m30.372s  25
14. Nelson Mason           Trident         1m30.445s  32
15. Roberto Merhi          Status          1m30.480s  41
16. Dean Stoneman          Manor           1m30.505s  29
17. Pal Varhaug            Jenzer          1m30.752s  18
18. Santiago Urrutia       Koiranen GP     1m31.125s  18
19. Patrick Kujala         Manor           1m31.325s  30
20. Ryan Cullen            Manor           1m31.392s  38
21. Adderly Fong           Jenzer          1m31.799s  19
22. Victor Carbone         Trident         1m31.981s  37
23. Alfonso Celis Jr       Status          1m32.377s  29
24. Carmen Jorda           Koiranen GP     1m35.576s  32

Afternoon times

Pos Driver                 Team            Time      Laps
 1. Alex Lynn              Carlin          1m28.553s  31
 2. Emil Bernstorff        Carlin          1m28.774s  43
 3. Jimmy Eriksson         Koiranen GP     1m29.259s  28
 4. Roman De Beer          Trident         1m29.276s  28
 5. Luis Sa Silva          Carlin          1m29.331s  18
 6. Dean Stoneman          Manor           1m29.333s  28
 7. Alex Fontana           ART             1m29.442s  23
 8. Dino Zamparelli        ART             1m29.468s  11
 9. Nick Yelloly           Status          1m29.538s  33
10. Marvin Kirchhofer      ART             1m29.553s  11
11. Patric Niederhauser    Arden           1m29.744s  16
12. Patrick Kujala         Manor           1m29.838s  23
13. Victor Carbone         Trident         1m29.921s  28
14. Nelson Mason           Trident         1m29.935s  29
15. Melville McKee         Jenzer          1m29.961s  18
16. Roberto Merhi          Status          1m30.010s  22
17. Santiago Urrutia       Koiranen GP     1m30.041s  20
18. Robert Visoiu          Arden           1m30.066s  24
19. Pal Varhaug            Jenzer          1m30.162s  32
20. Alfonso Celis Jr       Status          1m30.199s  27
21. Jann Mardenborough     Arden           1m30.235s  38
22. Adderly Fong           Jenzer          1m30.237s  23
23. Ryan Cullen            Manor           1m30.327s  24
24. Carmen Jorda           Koiranen GP     1m30.599s  20