Derek Tohill to drive for Liam Doran's Rallycross team
| | |
| --- | --- |
| By Hal Ridge | Thursday, March 27th 2014, 15:51 GMT |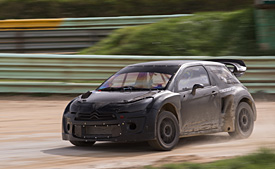 Derek Tohill will partner former Super1600 event winner Krzysztof Skorupski in the World Rallycross Championship this season, driving for the LD Motorsports World RX team.
Tohil, the reigning RallycrossRX TouringCar champion, will drive Citroen DS3 Supercars for the team.
The pair will race in this weekend's opening round of the MSA British Rallycross Championship as preparation for the world series, which gets underway in Portugal in May.
"I knew straight away after visiting LD Motorsports that that is where I wanted to be for the world championship," said Tohill.
"The Dorans are real rallycross people, they aren't trying to ride the crest of a wave, like me they have rallycross in their blood. I just can't wait to get out and race."
Skorupski won his first ever European event in the Super1600 category. The Pole was impressed by the performance of a Supercar at a test in France earlier this week.
"It's such a big opportunity, my main goal is to get used to the Supercars as quickly as possible, and adjust to the team," said Krzysztof.
"I was very impressed with the way everything worked at the test, and with the level of professional support the team has at their workshop in the UK."
Run by British RallycrossRX star Liam Doran, LD Motorsports will have two separate teams in 2014, the LD Motorsports World RX team and the Monster Energy World RX team, for which Doran himself will drive, alongside a yet to be announced team-mate.
"It's shaping up to be an absolutely huge year, and signing Derek and Krzysztof is exactly what we need for the team; the right mix of experience, speed and talent," said Doran.