Felipe Massa says F1 fans must accept new engine noise
| | |
| --- | --- |
| By Ben Anderson | Thursday, March 27th 2014, 14:27 GMT |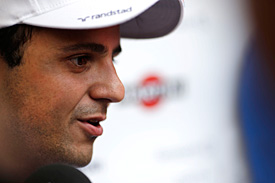 Felipe Massa says it is "too late" to do anything about the noise of the latest generation of Formula 1 engines, following criticism from fans and drivers after the first race.

Many fans have hit out at the muted sound produced by the category's new V6 engines, while world champion Sebastian Vettel has bemoaned the loss of the old V8 motors.
Williams driver Massa argues critics should accept the new notes as a necessary side-effect of the sport's desire to introduce more energy-efficient and road-relevant technology.

Vettel slams 2014 F1 engine sound
"Two years ago when they decided to change the engine it was the first thing everybody said: The sound was going to be different. Now it's too late," Massa said.
"It's impossible to hear the turbo and engine showing the same sound as the V8. They can do everything they want but you will never hear a sound like the V8.
"They believe it was the right thing to do for the technology so this is how it is and now it's too late to change the noise."
SHOW WILL GET BETTER
McLaren's Jenson Button has also castigated drivers for criticising the new Formula 1 and while agreeing with some that the first race was not great to watch, Massa is sure things will improve in the coming races.

The point engine sound critics are missing
"We cannot see the race now [is] like it's going to be in the middle of the season," said the Brazilian, who watched the Australian GP after getting taken out by Kamui Kobayashi's Caterham on the first lap in Melbourne.
"It was not a great race to watch, but I'm sure things will get better race-by-race.
"You see some teams suffering more than others with new regulations, but in the middle of the season everything will get like we were having last year."