Carlin could take Formula Renault 3.5 sabbatical
| | |
| --- | --- |
| By Glenn Freeman | Monday, March 24th 2014, 16:25 GMT |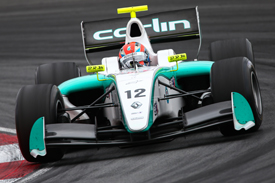 Carlin is prepared to take a sabbatical from Formula Renault 3.5 if it cannot put together a suitable financial package with drivers for the 2014 season.
The team, which took Mikhail Aleshin and Robert Wickens to the 2010 and '11 titles, has missed both official pre-season tests this winter, including the Jerez sessions that kicked off on Monday.
Team boss Trevor Carlin told AUTOSPORT that his outfit was close to running in Spain this week, but he has not ruled out skipping this season if it cannot make things work financially.
"We're still working on deals, and we haven't quite managed to get anything together yet," he said.
"We were close this week but we didn't quite manage it, unfortunately. We want to do it, but not at any cost.
"If we have to take a sabbatical then we will, although I don't know if Renault Sport will allow that."
Carlin praised the series, which he has been a part of since its World Series by Nissan days in 2003, but he added that rival teams offering "impossible" deals were pushing budgets down to dangerous levels.
"We love the championship, we are one of the longest-standing teams, but we're not going to do it at any cost," he said.
"World Series has been good to us in the past, and we're prepared to invest in it.
"But the amount that we would currently have to invest is not sustainable."
When asked if he was optimistic of the team appearing at Monza for the season opener on April 12-13, Carlin said: "Fingers crossed, that's all I can say really.
"We certainly haven't stopped trying. If other teams are choosing to give drives away that's up to them, but we're not in a position to do that."
If Carlin does sign drivers ahead of the season-opener it would hope to be allowed to use its in-season ECU mileage to catch up on some of the running it has missed out on.
2014 Formula Renault 3.5 line-up so far:

DAMS                        Carlos Sainz Jr/Norman Nato
Fortec Motorsports          Oliver Rowland/Sergey Sirotkin
International Draco Racing  Pietro Fantin/Luca Ghiotto
Arden Motorsport            Pierre Gasly/Will Buller
Tech 1 Racing               Marco Sorensen
Strakka Racing              Will Stevens/Matias Laine
Lotus (Gravity Charouz)     Matthieu Vaxiviere/Marlon Stockinger
ISR                         Jazeman Jaafar
AV Formula                  Zoel Amberg
Zeta Corse
Carlin
Pons Racing
Comtec Racing               Nikolay Martsenko