Red Bull says F1 2014 resurgence no shock despite pre-season woes
| | |
| --- | --- |
| By Jonathan Noble and Matt Beer | Monday, March 24th 2014, 16:01 GMT |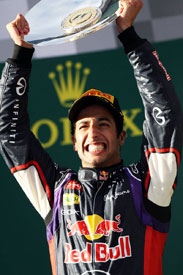 Red Bull never believed it would be at the back in the Australian Grand Prix even at the worst moments of its pre-season, says Christian Horner.
The champion team ended the first test at Jerez at the foot of the timesheets and mileage tables, then endured continued problems through the following Bahrain tests.
But Daniel Ricciardo was able to qualify and finish second in Melbourne before being disqualified for a fuel-flow infringement that Red Bull is appealing.
Horner insists that no matter how dire matters appeared in testing, Red Bull was always confident it could be quick enough.

Red Bull's pre-season crisis continues
Asked by AUTOSPORT for his feelings on the car being in the fight at the front in Australia, Horner replied: "We've never believed that we won't be and we will keep fighting as hard as we can to fight ourselves back into competitiveness.
"We know we have got the basis of a good car.
"We know we have got issues to sort out, we just have to work hard to get on top of them quickly, together with the guys from Renault. We are doing our best to support them.
"[Melbourne] was the best opportunity that we have really had to work on the car with set-up and the first opportunity to drive the car properly."
Although Red Bull won four straight F1 titles prior to 2014, Horner said there were enough blips and challenges in those seasons for the team to prove it could cope with adversity.

Video: secrets of Red Bull's 2012 resurgence
"It has been a horrible pre-season for us, but if anybody is capable of making up ground quickly then we have demonstrated in the past that we are able to do that," he said.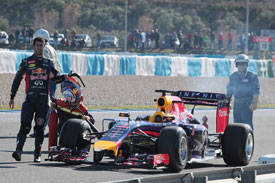 "We had a difficult start to 2012 season after a big regulation change through exhaust blowing and we recovered well from that.
"The dominance was not our fault.
"OK we did a great job until the last regulations and we have got some challenges ahead of us but the power unit is a game-changer and we have seen that."