2014 Formula 1 cars set for 'big steps' forward in pace
| | |
| --- | --- |
| By Edd Straw | Monday, March 24th 2014, 12:37 GMT |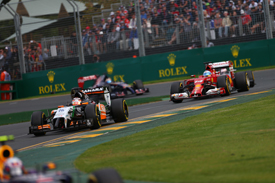 Formula 1 teams can still gain significant performance by better understanding the 2014 tyres, according to Pirelli motorsport director Paul Hembery.
Teams had to get on top of the new 1.6-litre V6 turbocharged engines, as well as the changes to the aerodynamic rules, during pre-season testing and as a result Hembery has no doubt that there are still steps to be made in mastering the tyres.
This, combined with the anticipated car upgrades, should lead to the 2014 cars getting significantly quicker as the season goes on, with estimates ranging from two to four seconds in terms of potential improvement.
"They have been focused on a lot of other factors at the start of the year and we will see more and more work going into getting the tyre/chassis working [together] to improve front-to-rear balance," Hembery told AUTOSPORT.
"And they are going to get a lot of the performance gains through cornering, so we envisage there are going to be a lot of changes as the season goes on.
"We are taking the view that there is going to be a lot of development this year and there are going to be some big steps in performance."
PIRELLI PREPARED FOR SPEED INCREASES
Hembery is certain that the four dry-weather compounds Pirelli has produced will give it the operational range it needs to allocate the right tyres through the season even if the cars do get significantly quicker.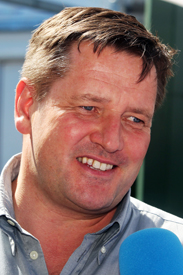 "We are pretty confident, certainly at the start of the season at the more aggressive tracks," he said.
"At the end of the year, it's going to be a balance between being conservative with choices and also looking at the rate of development of the car.
"Often, you get two [compounds] that work and the other two tend to be an extreme choice, but you could run the Bahrain race on any of the four compounds and that wouldn't have been the case in the past."
Hembery also believes the tyres have shown they are able to cope with the increased torque demands of the new engines.
"We were trying to find a balance between tear-resistance and thermal resistance," he said.
"With less downforce, you have got to have some mechanical grip coming from the tyre but if you go too far in that direction, then you get tearing.
"So far, we are pretty pleased. In some cases, you do get overheating if you push too hard in certain parts of the track or the exit of certain corners, but that's something the teams will work on and improve with time."