Fontana NASCAR: Jimmie Johnson calls for tyre issue investigation
| | |
| --- | --- |
| | Monday, March 24th 2014, 12:14 GMT |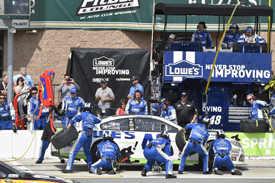 Jimmie Johnson believes the tyre failure that wrecked his chance of victory at Fontana is part of a 'bigger picture' that NASCAR Sprint Cup officials must investigate.
The six-time champion was on course for victory after leading for the majority of the race, but with seven laps to run his left front suddenly blew.
It was just one of a litany of tyre-related incidents over the weekend, with Kevin Harvick, Dale Earnhardt Jr, Greg Biffle, Brad Keselowski, Marcos Ambrose and Clint Bowyer among those also affected.

Fontana NASCAR Sprint Cup race report
Johnson says the volume of incidents suggests a wider problem, invalidating any argument that teams should bear the weight of responsibility for tyre failures.
"When anything happens [with tyres], the standard response to all of us is that it is the team's fault," he said.
"I guess we're all at fault this weekend.
"I had a nice margin on the #24 [Jeff Gordon] and was just kind of managing things up front. That was the least amount of pressure I had, [so I'm] really shocked to have a problem like that.
"I think there's maybe something bigger. The cars are much different this year, faster, and maybe that means they're more abusive on the tyre and something needs to be addressed.
"It seems like there have been some issues for a few weeks in a row. Maybe there's a bigger picture that needs to be investigated."
Keselowski echoed Johnson, saying tyre concerns limit the performance of the cars.
"I pushed it hard on the last run and I was one of at least three guys that blew a tyre," he said.
"If I didn't push the car hard I wasn't going to have a good day. That was the box we were all forced into."
NASCAR vice president of competition Robin Pemberton said he was open to reviewing the situation, adding: "the Goodyear is the same tyre that we've run in the past; it's just the car is a little different.
"As always we'll get back and look at it, but right now I think Goodyear has done a pretty good job."