Sergio Campana joins Zele for 2014 AutoGP campaign
| | |
| --- | --- |
| | Saturday, March 22nd 2014, 12:20 GMT |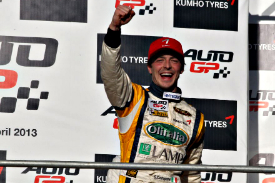 Sergio Campana will switch to Zele Racing for this year's AutoGP championship.
The 27-year-old has won four times since moving into the series in 2012, the year after he clinched the Italian Formula 3 title.
Victories at Monza, Marrakech and Mugello helped him finish third overall last year with Ibiza Racing.
"I have known Michael [Zele, team owner] for some time and we work along the same lines," Campana said.
"When I did a guest start for them at the US race in 2012, I finished on the podium off the cuff. It clicked immediately.
"Since then, both I and the team have developed further and we started talking about 2014 at the official test in Jerez last year.
"I am sure that we can have a great 2014 season together."
Michael Zele said signing Campana would help the team "challenge the big guns," adding: "obviously, you need a good driver for doing so and therefore, we are very happy to have to an agreement with Sergio.
"He is an excellent racer, but also a great person."
Zele announced it will run Tamas Pal Kiss for the forthcoming season earlier this week.