Loeb sets pace for Citroen in first official 2014 WTCC test
| | |
| --- | --- |
| | Saturday, March 22nd 2014, 11:41 GMT |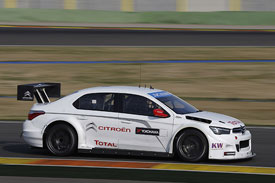 Sebastien Loeb set the pace for Citroen in the first official test of this year's World Touring Car Championship at Valencia.
The nine-time World Rally champion went comfortably fastest in his C-Elysee, ahead of Honda duo Gabriele Tarquini and Tiago Monteiro.
The Italian veteran was using Honda's test Civic, with Monteiro driving the first of the Japanese firm's upgraded race cars.
Tom Chilton and Hugo Valente were also present at the test, driving RML-built Chevrolet Cruzes for ROAL Motorsport and Campos respectively.
A rear wing mounting problem, which was quickly modified, was the only issue the cars suffered on their first significant test of the season.
"The car was reliable, which is very positive for its first test," Valente said.
"I am also pleased with the pace we have shown, we were only a few tenths behind the two Honda cars."
ONYX WITHDRAWS ON EVE OF SEASON
Organisers revealed that Onyx Racing has been forced to abandon its plans to enter the championship this year.
Mike Earle announced he had reformed the ex-Formula 1 team with the aim of embarking upon a five-year project in the WTCC in January.
The team's withdrawal means 22 cars will contest the full 2014 season.
Sixteen of those entries are in the newly-formed TC1 class. Alongside six Chevrolets - for ROAL, Campos and Munnich - Honda will field four Civics, while Lada and Citroen will both run three full-time entries.
Six cars, from Engstler, Campos and Nika, will compete in TC2.
2014 WTCC line-up:

Team                 Car                  Driver(s)
Honda (JAS)          Honda Civic WTCC     Gabriele Tarquini/Tiago Monteiro
Citroen              Citroen C-Elysee     S Loeb/Y Muller/JM Lopez
Lada (SMP)           Lada Granta          R Huff/J Thompson/M Kozlovskiy
Zengo Motorsport     Honda Civic WTCC     Norbert Michelisz
Proteam Motorsport   Honda Civic WTCC     Mehdi Bennani
ROAL Motorsport      Chevrolet Cruze      Tom Coronel/Tom Chilton
Campos               Chevrolet Cruze      H Valente/D Borkovic
Munnich Motorsport   Chevrolet Cruze      G Morbidelli/Rene Munnich
Engstler             BMW 320              Franz Engstler/tba*
Nika Racing          Chevrolet Cruze      tba*
Campos               Seat Leon            John Filippi/tba/tba*

* TC2 entries