Donington BTCC test: Jordan edges Shedden, with Menu in third
| | |
| --- | --- |
| By Matt James | Tuesday, March 18th 2014, 17:24 GMT |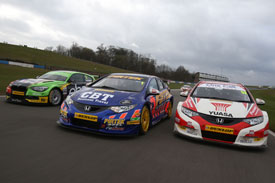 Reigning champion Andrew Jordan was the fastest man in the official British Touring Car Championship test session during media day at Donington Park.
The 24-year-old Eurotech Honda Civic driver clocked a 1m11.087s lap and was just one thousandth of a second clear of the factory Honda Civic Tourer of Gordon Shedden, who had caused an early red flag when he went off on oil dropped by another car but without damage.
Returning champion Alain Menu was impressive as he set the third fastest time in the Team BMR VW Passat, only 0.2s behind the leader.
Adam Morgan's Mercedes A Class and Sam Tordoff's factory MG rounded out the top five.
The day was blighted by rain after 45 minutes of running, so many drivers did not get a chance to set a competitive laptime before the heavens opened.
Works MG driver Jason Plato was the worst affected because he had missed the opening part of the running while a steering problem was fixed and could only return to the action on the wet surface.
Jordan said that he was annoyed that the weather had closed in on what will be his final test of the season before the Eurotech team prepares for Brands Hatch in two weeks' time.
"I have been concentrating on set-up so far in testing, rather than outright pace," said Jordan.
"My plan was to go for it this afternoon so I could get a real gauge on where were are with everything.
"I was running with [success ballast] weight on but I think we could have gone much faster. When the rain came, that scuppered us.
"The changes we have made to the car over the winter have improved it, but we can't really see what our true pace is because of the conditions today."
MOST OF THE FIELD READY TO RUN
Twenty-six of the 31 confirmed racers took part in the four-hour session, including Mat Jackson who had only signed his deal to drive Motorbase's remaining Ford Focus on the morning of the test.
Team BMR Vauxhall Insignia driver Jack Goff elected to sit out the running when the rain came, preferring to save his machine until his next planned outing on Wednesday at Silverstone.
Rotek Racing's Rob Holland also opted to sit out the session in the new Audi A3 saloon. The car was only completed on the day before the media day and the team still has more refinements to do.
Lea Wood is still waiting for parts for his Toyota Avensis, with Welch Motorsport pair Daniel Welch and Ollie Jackson in the same situation with their Protons.
Pos  Driver                Team/Car           Time       Gap
 1.  Andrew Jordan         Eurotech Honda     1m11.087s
 2.  Gordon Shedden        Honda              1m11.088s  +0.001s
 3.  Alain Menu            BMR VW             1m11.226s  +0.139s
 4.  Adam Morgan           Ciceley Mercedes   1m11.314s  +0.227s
 5.  Sam Tordoff           Triple Eight MG    1m11.441s  +0.354s
 6.  Matt Neal             Honda              1m11.474s  +0.387s
 7.  Aron Smith            BMR VW             1m11.570s  +0.483s
 8.  Colin Turkington      WSR BMW            1m11.741s  +0.654s
 9.  Rob Collard           WSR BMW            1m12.092s  +1.005s
10.  Tom Ingram            Speedworks Toyota  1m12.101s  +1.014s
11.  Marc Hynes            Triple Eight MG    1m12.107s  +1.020s
12.  Fabrizio Giovanardi   Motorbase Ford     1m12.175s  +1.088s
13.  Nick Foster           WSR BMW            1m12.483s  +1.396s
14.  Dave Newsham          AmD Ford           1m12.590s  +1.503s
15.  Martin Depper         Eurotech Honda     1m12.816s  +1.729s
16.  Glynn Geddie          United Toyota      1m12.971s  +1.884s
17.  James Cole            United Toyota      1m13.534s  +2.447s
18.  Jack Clarke           Motorbase Ford     1m13.748s  +2.661s
19.  Hunter Abbott         RAR Audi           1m14.355s  +3.268s
20.  Simon Belcher         Handy Toyota       1m15.734s  +4.647s
21.  Rob Austin            RAR Audi           1m16.964s  +5.877s
22.  Jason Plato           Triple Eight MG    1m19.887s  +8.800s
23.  Aiden Moffat          Moffat Chevrolet   1m19.908s  +8.821s
24.  Mat Jackson           Motorbase Ford     1m20.678s  +9.591s
25.  Warren Scott          BMR Vauxhall       1m22.155s  +11.068s
26.  Chris Stockton        BTC Chevrolet      1m24.268s  +13.181s