Alain Menu has first test in BTCC VW Passat at Croft
| | |
| --- | --- |
| By Kevin Turner | Thursday, March 13th 2014, 17:50 GMT |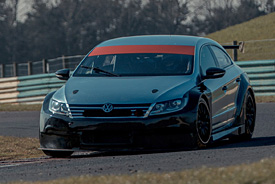 Former British Touring Car champion Alain Menu has had the first test of his series return at Croft.
The 50-year-old, who took the 1997 and 2000 BTCC crowns, had his first run in the Team BMR VW Passat CC in which he will make his BTCC comeback this season.
Menu was encouraged by the test, though conceded there was work to be done ahead of the season opener at Brands Hatch on March 30.
"It's been a good test," he said. "The weather has been great, which was exactly what I needed for my first time in the car as it enabled us to get plenty of running in.
"As a team, we know we are not completely up to speed yet, so we have been focusing on learning how to work together and trying to improve the car.
"It will take a little while before we are where we want to be performance-wise, but for our first test, it has been promising.
"It has been a positive start and everything is going according to plan. The CC handles well and I'm feeling optimistic."

BTCC champions on 2014
Menu is looking forward to taking on the six other BTCC champions on the grid this season.
"I'm excited to be back in the BTCC again - racing is my life and what I love doing," he added.
"It will be a challenge and out on the track, there are a lot of young drivers who I know will be quick and who will give me a run for my money, but the ambition is to fight at the front and win races.
"The goal is clearly to attain the same level as the likes of Triple Eight, Team Dynamics and WSR.
"It would be foolish to think we are there yet, but there's no reason at all why we can't reach it in the fullness of time."