Hunter Abbott joins Rob Austin Racing for 2014 BTCC
| | |
| --- | --- |
| | Wednesday, March 12th 2014, 20:09 GMT |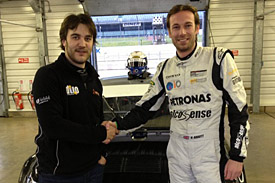 GT racer Hunter Abbott will drive Rob Austin Racing's second Audi A4 in the British Touring Car Championship this season.
The 33-year-old has signed to race alongside team owner Rob Austin, who took his first win in the series last season at Rockingham.
"Watching the BTCC in the 1990s is what made me want to race in the first place," said Abbott.
"Racing in the BTCC is the realisation of part of a childhood dream and finally I've got the opportunity to do it - and with a team that's clearly on the up.
"The deal has come together quite late but I got my first run in the Audi [last week] and I'm pleased with how it went."
Austin, who shared a car with Abbott in British GT in 2008, added: "I'm very excited about having Hunter in the team. He's driven for me in the past and he's always been rapid.
"All the team are immediately very impressed with his approach and we're looking forward to the season together."
Confirmed 2014 British Touring Car line-up so far:

Team               	Car            	  Drivers
Eurotech           	Honda Civic    	  Andrew Jordan/Martin Depper
Honda (Team Dynamics)   Civic Tourer   	  Gordon Shedden/Matt Neal
MG (Triple Eight)  	MG6            	  Jason Plato/Sam Tordoff/Marc Hynes
Ciceley Racing     	Mercedes A-class  Adam Morgan
Motorbase Performance   Ford Focus     	  Fabrizio Giovanardi/Jack Clarke/TBA
AmD                	Ford Focus     	  Dave Newsham
Rob Austin Racing  	Audi A4        	  Rob Austin/Hunter Abbott
Welch Motorsport   	Proton Gen-2   	  Dan Welch/Ollie Jackson
United Autosports  	Toyota Avensis 	  James Cole/Glynn Geddie
Rotek Racing       	Audi S3        	  Robb Holland
Handy Motorsport   	Toyota Avensis 	  Simon Belcher
Team BMR           	Vauxhall Insignia Jack Goff/Warren Scott
Team BMR           	VW Passat CC   	  Alain Menu/Aron Smith
WSR                	BMW 125i M Sport  Colin Turkington/Rob Collard/Nick Foster
Speedworks Motorsport   Toyota Avensis 	  Tom Ingram
Houseman Racing    	Toyota Avensis 	  Lea Wood