F1's 2014 rule changes will favour experienced drivers - Massa
| | |
| --- | --- |
| By Edd Straw | Wednesday, March 12th 2014, 15:20 GMT |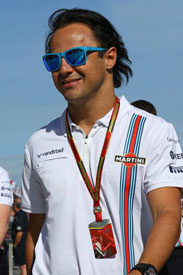 Formula 1's 2014 regulations will favour the more experienced drivers, according to Felipe Massa.
The 32-year-old, who has switched from Ferrari to Williams for this season, believed that the driving demands of the new 1.6-litre turbocharged V6 era will put a premium on patience.
The 100kg-per-race fuel limits mean that there will be times when drivers are required to save fuel while still lapping quickly, something that younger drivers might not have the right mindset to do.

Time for the real Massa to stand up
"The biggest difference [between an experienced and inexperienced driver] is that the youngest want to win yesterday," he said.
"If you put a young guy in the car and you need to drive slowly, it's difficult because the thinking is not the same.
"I was like that. I remember in my first year that saving tyres and fuel was very tricky because you are too young and you want to win all of the time.
"Every lap of the race is qualifying, that's the difference."
Despite this, Massa believes that 2014 is the ideal time for newcomers to break into grand prix racing.
While the experienced hands have an advantage in terms of mindset, he considers it to be more of a level playing field thanks to the scale of the changes.

AUTOSPORT predicts the F1 2014 order
"It's the best time for a young guy to go into F1 because it's a new car for everybody," he said.
"So when you are young and you arrive, the old, experienced drivers are still learning.
"So I am sure it can be the right time for [Kevin] Magnussen and for [Daniil] Kvyat because they are starting in F1 when it's new to everybody.
"If they have a good car, they can show good performance straight away.
"But they need to think a little bit more because kids are still kids."
F1'S EXPERIENCED HEADS
Felipe Massa is the fourth most experienced driver on the 2014 grid.
Current drivers, ordered by F1 starts
 1. Jenson Button, 247
 2. Fernando Alonso, 215
 3. Kimi Raikkonen, 192
 4. Felipe Massa, 191
 5. Nico Rosberg, 147
 6. Lewis Hamilton, 129
 7. Sebastian Vettel, 120
 8. Adrian Sutil, 109
 9. Kamui Kobayashi, 60
10. Pastor Maldonado, 58
11. Nico Hulkenberg, 57
12. Sergio Perez, 56
13. Daniel Ricciardo, 50
14. Romain Grosjean, 45
15. Jean-Eric Vergne, 39
16. Esteban Gutierrez, 19
 =  Valtteri Bottas, 19
 =  Jules Bianchi, 19
 =  Max Chilton, 19
* Kevin Magnussen, Daniil Kvyat and Marcus Ericsson will make their debuts in the
 Australian GP on March 16.