Penske believes 2013 NASCAR Sprint Cup slump helped Keselowski
| | |
| --- | --- |
| By Matt Beer | Tuesday, March 11th 2014, 11:12 GMT |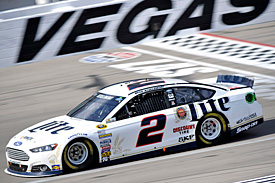 Roger Penske believes Brad Keselowski's year of difficulty in 2013 after becoming NASCAR Sprint Cup champion has proved good for him.
Keselowski failed to make the Chase last season and did not win a race until Charlotte in October.
That performance was a fall from grace after he defeated Jimmie Johnson in a tense title shootout in 2012.
The Penske Ford driver has started 2014 in better form, pouncing when Dale Earnhardt Jr when short of fuel to win round three at Las Vegas Motor Speedway on Sunday.
"I think Brad matured," said his team boss.
"I think you've seen his MO this year. He's certainly focused.
"You have to have a little bit of adversity before you get better, and I think that's what happened to Brad Keselowski."
Keselowski admitted that the criticism his 2013 season received was "not fun", but felt he coped well with the pressure.
"I wouldn't say I let the negative comments motivate me too much. I was motivated the whole time. I didn't really need any extra motivation," he said.
"I guess I found my happy place looking at a guy like Tony Stewart, who I still consider to be one of the best racecar drivers out there and probably one of the best of all time.
"If you look at his championships, there were three, five, six years or whatever in between those.
"The sports world works in cycles, and we didn't have the year we wanted to have last year. I'm not afraid to admit that and I'm definitely not going to hide from it.
"But we also have to be realists and know that a lot of things have to come together to win. The team has to be perfect, I have to be perfect, and a little bit of racing luck has to go your way.
"I don't think we hit either one of those three last year, but we weren't far off on any one of those three."
Penske believes the 2013 slump was out of Keselowski's hands in large part, with the team's switch from Dodge to Ford a factor.
"Obviously there were a lot of things that changed last year: new manufacturer, new motors, new reliability," said Penske.
"We had to get our cars right. We had some reliability problems from a heating situation which I'd have to say was ours.
"But it was tough, and we got wrecked a couple times and that didn't help us."