Tom Onslow-Cole leaves the BTCC to pursue GT career
| | |
| --- | --- |
| By Kevin Turner | Friday, March 7th 2014, 17:23 GMT |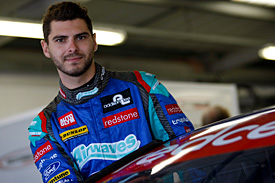 British Touring Car race winner Tom Onslow-Cole has quit the championship to pursue a career in GT or sportscar racing.
The 26-year-old, who first raced in the BTCC in 2007, has seven wins to his name.
He switched from Team Hard to Motorbase during 2013 and had been looking for a seat this season, but has now decided to race elsewhere.
"The BTCC has been my home for many years and I still believe it is one of the greatest series in the world," he said.
"I had a serious opportunity to race in the championship again this year, with what I believe is a team capable of winning the title. However, after much thought, I've decided to explore some other options outside of the BTCC.
"It's been increasingly difficult to raise the budget and GTs provide good opportunities."
Although Onslow-Cole has yet to confirm a full-time deal for 2014, he has driven a variety of GT machinery and is hopeful of finding a seat.
"I've been looking into sportscar racing since the start of last year when the chance to test and compete in an Aston Martin Vantage GT3 came my way," he added.
"Since then I've raced in Dubai 24 Hours and am looking to continue this momentum with some further GT outings.
"I've got lots of irons in the fire. I'm widening my experience as a driver and exploring what could be some very exciting career opportunities."
Although he has no plans to return to the BTCC in the foreseeable future, Onslow-Cole did not completely rule out a comeback.
"This isn't the end of me and the BTCC," he said. "I have unfinished business here and I'm sure I'll be back one day to complete the job.
"I'd like to thank TOCA, all the fans, the teams and my sponsors that have supported me throughout the last 10 years. It's been an awesome ride and I hope the next 10 years live up to it."
ONSLOW-COLE IN THE BTCC
Starts: 190
Wins: 7
Best championship: 4th (2010)
Teams: WSR, Vauxhall (Triple Eight), Arena, AmD, Team Hard, Motorbase