Crosskart star Lukas Walfridson in 2014 rallycross Supercar move
| | |
| --- | --- |
| By Hal Ridge | Wednesday, March 5th 2014, 11:18 GMT |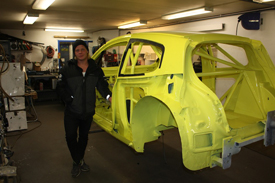 Helmia Motorsport will field one of its unique five-cylinder Renault Clio rallycross Supercars for multiple Scandinavian Crosskart champion Lukas Walfridson in the 2014 World Rallycross Championship.
The 20-year-old Swede, who has won nine Crosskart championships in Scandinavia since 2009, will drive the car campaigned by his uncle Stig-Olov Walfridson last season.
He will tackle the five-round European championship that runs within the world series, and his home round of the world championship at Holjes in Sweden.
"When this opportunity arose, I immediately wanted to go for it," said Walfridson.
"Moving from Crosskart to a Supercar is something I really wanted to do. It will be a big challenge but I'm keen to make progress.
"Our goal is to finish in the top three of Euro RX at the end of the year. That is my only aim and together with my team, I will strive to make it happen."
Walfridson will be partnered by experienced Norwegian Tord Linnerud in a two-car squad.
The young Swede tested the Supercar he will use this season before Christmas at Holjes, before it got stripped for a winter rebuild.
"Lukas did 50 laps at Holjes before the snow hit. The Crosskart lap times are actually very close to that of a Supercar around Holjes which has helped him a lot," said his father Lars-Erik Walfridson.