Mercedes F1 team still nervous ahead of Australian Grand Prix
| | |
| --- | --- |
| By Jonathan Noble | Wednesday, March 5th 2014, 10:14 GMT |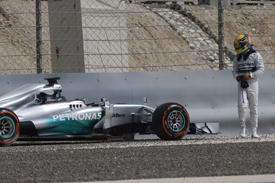 Mercedes remains 'nervous' ahead of the Australian Grand Prix despite its strong Formula 1 testing form.
Although Mercedes-powered teams have been consistently fast through winter running, its engine chief Andy Cowell says the fear of being stopped by reliability issues in Melbourne is real.
"We are being cautious, being careful, and trying not to smile about the distance that we did achieve in Bahrain, or the performance we managed," he told AUTOSPORT in an exclusive interview.
"We are smiling for milliseconds, then thinking hard and grafting to make sure that we understand the issues.
"It is impossible to say what our state of readiness is. And it is an ongoing relentless drive for pushing things harder, learning, and making sure the containments that you have got in place for the race weekend minimise the risk.
"So there is a big push for Melbourne, but we are very conscious that it is not until the last race that any of us will have the satisfaction of the world championship."

Gary Anderson on the pre-Melbourne pecking order
He warned that testing form was often proved deceptive in Australia.
"We often have surprises in Melbourne," said Cowell.
"We have seen cars struggle to do a race distance in pre-season testing but then finish the first race on the podium. We have seen it countless times and it can happen again.
"Melbourne is a very exciting step into this new world of hybrid F1. I really don't know how it is going to unfold. "
TESTING NOT DELIVERED ALL ANSWERS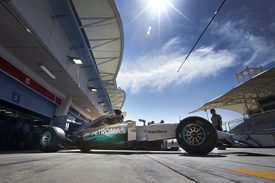 Mercedes covered the most mileage out of the three engine manufacturers in pre-season testing, but Cowell says that it must not believe that every eventuality that could stop it has been accounted for.
This is especially true after fresh reliability issues came to light for its team as components hit high mileage.

Final test results and round-up
"The phrase is the devil is in the detail, and what bit of detail have we not put our eyes on, or have we not uncovered in testing," explained Cowell.
"Hopefully we have uncovered most of it because doing nearly 18,000km of testing with the Mercedes power units has unearthed a lot of issues.
"But has it done everything? Never. There is no way that we have come across all the issues."