Harvick says sky is the limit after Phoenix NASCAR Sprint Cup win
| | |
| --- | --- |
| | Tuesday, March 4th 2014, 10:23 GMT |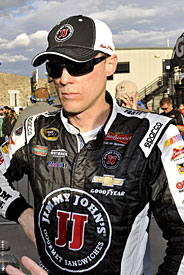 Kevin Harvick believes the "sky is the limit" for the revamped Stewart-Haas team after his win in the Phoenix NASCAR Sprint Cup race.
Stewart-Haas has expanded from three to four cars for 2014, replacing Ryan Newman with Harvick and adding an additional car for Kurt Busch alongside owner/driver Tony Stewart and team regular Danica Patrick.
Harvick was able to dominate at Phoenix, even though he reckons the team is still early in its transformation and far from its potential.
"To see the amount of change within Stewart-Haas Racing with the car, the haulers, the pit boxes, everything that has come with putting all these pieces together, [the win] is just a huge credit to these guys," said the former Richard Childress Racing driver.
"It's just a different atmosphere for me. The enthusiasm is just through the roof.
"I think as you go through time, the sky's the limit for this team because everybody is still trying to learn each other's names let alone what's going on with the racecar."
Team co-owner Gene Haas hoped the results would silence critics of Stewart-Haas's expansion, which happened while Stewart was sidelined with a badly broken leg and while Haas was simultaneously formulating plans for a 2015 Formula 1 entry.
"This is phenomenal. I think there was a lot of scepticism last year about what myself and Tony were up to. Was there a lot of madness to this?
"I don't know what we did, but I think we put together a great organisation."
Brad Keselowski, the 2012 Cup champion, believes Stewart-Haas is benefitting from a 'honeymoon' effect with Harvick's arrival.
He compared it to Matt Kenseth and Joe Gibbs Racing's title bid last year in Kenseth's first JGR season after leaving Roush Fenway.
"I would look for big things out of that [Harvick/Stewart-Haas] team," said Keselowski.
"They looked a lot like the #20 car [Kenseth] did last year at this time.
"They have that honeymoon syndrome going on and taking full advantage of it."