Williams says reliability is on target ahead of F1 season opener
| | |
| --- | --- |
| By Glenn Freeman and Jonathan Noble | Tuesday, March 4th 2014, 09:57 GMT |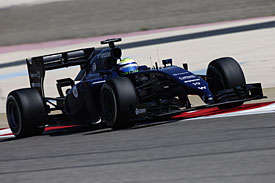 Williams has warned rivals that it has hit ambitious reliability targets ahead of the new Formula 1 season, even though it is unsure of its pace just yet.
The Grove-based outfit has been one of the surprises of pre-season testing, with both Valtteri Bottas and Felipe Massa emerging as serious contenders to challenge favourite Mercedes.
But while the team is taking nothing for granted about its speed yet, chief test and support engineer Rod Nelson has dropped a firm hint about the confidence it has in its reliability, which is widely accepted as being a key factor for 2014.
Nelson has revealed that his team held fire on pushing its FW36 in performance terms until it was confident that it had produced a reliable car.

Does Williams hold the aces?
Commenting about his team waiting until the end of the final Bahrain test to deliver its quickest laps, he said: "I think it is more a reflection of our determination to have a good solid reliable car, and we are absolutely determined that that was going to be the case. Touch wood that will carry on.
"We lost a day in Jerez, and lost a day here [in Bahrain] last week and we know that it will be pivotal to be as reliable as it can be.
"It wasn't any braveness or bluster of anything. It is just we had our homework to do and I wasn't going to sleep until we'd done it."
Although Massa set the quickest time overall from the Bahrain tests, and the team has been consistently fast throughout the winter, Nelson has refused to raise confidence levels about its chances of a good result.

Ten things we learned from the final test
"We will have to see," he said. "Everyone else could be running 20kg of fuel and we would look stupid in Australia - I would rather wait."
When asked if after the winter it has had, he would be disappointed if the team was not at the least comfortably fighting in the points, he said: "I wouldn't say that. I say we will do the best job that we possibly can.
"If we can look ourselves in the mirror and say we did the best job we could, we should be happy with that."