IndyCar drivers say series now on road to recovery
| | |
| --- | --- |
| By Mark Glendenning | Monday, March 3rd 2014, 13:58 GMT |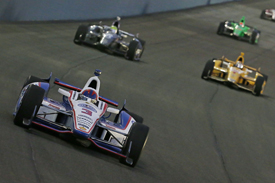 Leading IndyCar drivers believe the changes made over the past two years have put the series on the road towards recovering its former glory.
The series suffered a huge drop in TV figures and race attendances in the wake of the damaging CART/Indy Racing League split in the 1990s.
While the standard of racing has taken a huge leap since reunification in 2008, and even more so following the arrival of the DW12 chassis in '12, it continues to struggle to attract fans back into the fold.
Three-time Indianapolis 500 winner Helio Castroneves identified the appointment of Derrick Walker as head of IndyCar's competition department mid-way through last year as a major step towards improving communication between the drivers and the series, and called upon his colleagues to do more.
"Right now, the series is going through a process," Castroneves said.
"Having Derrick Walker taking command, I feel at least that at the last meeting of all the drivers, there was a sense of leadership. And that's very good.
"Every year it was like we were searching for that, but now I believe we have it.
"The drivers need to continue working together because sometimes it's easy to point at what's wrong and not try to find a solution."
KANAAN: DON'T JUDGE CHANGES TOO FAST
Castroneves' thoughts were echoed by new Ganassi arrival Tony Kanaan.
"In the past, we kept trying to make a change every year, either with personnel, or new rules, or stuff that wasn't communicated to us," he said. "I believe in consistency, and I believe we've got some now.
"As drivers we need to organise ourselves to be able to work with Derrick Walker and [CEO] Mark Miles towards sharing our opinions, so that when they make a rule change that is going to affect us, they get feedback from a racecar driver, not from someone who hasn't driven the car or something.
"I think we're heading in the right direction. Is it going to fix all the problems; are we going to grow the way we want to right away? I don't think so. But I think we are better organised than we've ever been since the merger."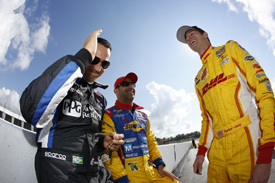 Kanaan believes that many of the answers to reversing the slide lie in better promotion rather than ongoing changes
"There is not one change that's going to make [a difference]," he said. "I could sit here and say 'we need to have every race live on free-to-air', but it's more than that.
"It's promotion; it's getting the product out there and trying to adapt to what the fans like to see, as well. And we're doing it.
"We've introduced standing starts, we have double-file restarts, and it is making a difference.
"Giving those changes only a year and then judging them does not work; I think we need to give them a couple of years.
"NASCAR is making changes every year - I can't understand that new Chase at all."