Phoenix NASCAR: Brad Keselowski takes first pole of new system
| | |
| --- | --- |
| | Saturday, March 1st 2014, 00:41 GMT |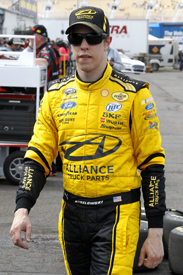 Brad Keselowski claimed the first pole position under the NASCAR Sprint Cup's new Formula 1-inspired qualifying system at Phoenix.
The previous one-at-a-time format has been dropped for 2014 in favour of a knockout structure.
At Phoenix, the whole field had a 30-minute session after which the top 12 went forward into a pole shootout.
Penske duo Joey Logano and Keselowski had put their Fords first and second as soon as the first part of qualifying began and held those positions throughout.
They did the same in part two, but this time Keselowski was able to improve on his second run and beat his team-mate's 25.850-second lap by 0.022s.
"Boy that feels good, we've put a lot of effort to being as good as we can be after a very long 2013," said '12 champion Keselowski, who failed to make the Chase last season.
Ganassi had a strong day, with Jamie McMurray third and rookie Kyle Larson seventh.
Jimmie Johnson took fourth, ahead of his Daytona 500-winning Hendrick team-mate Dale Earnhardt Jr, who had been quickest in practice, and Roush Fenway's Greg Biffle.
While the Penske drivers opted to go out immediately in the pole segment, others held back in the pits until the last moment.
Denny Hamlin took this tactic furthest and did just one lap, but ended up 12th and last among the group.
Kevin Harvick, Clint Bowyer and Ryan Newman led those who missed the cut at the end of first qualifying.
Although some drivers voiced concerns about traffic, particularly with cars running slowly to cool down between flying laps, the only incident was an early spin into the wall by Justin Allgaier.
Pos  Driver              Team/Car                 Time     Gap
 1.  Brad Keselowski     Penske Ford              25.828s
 2.  Joey Logano         Penske Ford              25.850s  +0.022s
 3.  Jamie McMurray      Ganassi Chevrolet        25.905s  +0.077s
 4.  Jimmie Johnson      Hendrick Chevrolet       26.021s  +0.193s
 5.  Dale Earnhardt Jr   Hendrick Chevrolet       26.022s  +0.194s
 6.  Greg Biffle         Roush Fenway Ford        26.023s  +0.195s
 7.  Kyle Larson         Ganassi Chevrolet        26.027s  +0.199s
 8.  Kyle Busch          Joe Gibbs Toyota         26.027s  +0.199s
 9.  Aric Almirola       Petty Ford               26.034s  +0.206s
10.  Kurt Busch          Stewart-Haas Chevrolet   26.078s  +0.250s
11.  Kasey Kahne         Hendrick Chevrolet       26.108s  +0.280s
12.  Denny Hamlin        Joe Gibbs Toyota         26.217s  +0.389s
13.  Kevin Harvick       Stewart-Haas Chevrolet   26.122s  Q1
14.  Clint Bowyer        Waltrip Toyota           26.123s  Q1
15.  Ryan Newman         Childress Chevrolet      26.126s  Q1
16.  Brian Vickers       Waltrip Toyota           26.127s  Q1
17.  Jeff Gordon         Hendrick Chevrolet       26.136s  Q1
18.  Casey Mears         Germain Chevrolet        26.165s  Q1
19.  Matt Kenseth        Joe Gibbs Toyota         26.173s  Q1
20.  Tony Stewart        Stewart-Haas Chevrolet   26.185s  Q1
21.  Ricky Stenhouse Jr  Roush Fenway Ford        26.187s  Q1
22.  Paul Menard         Childress Chevrolet      26.211s  Q1
23.  Carl Edwards        Roush Fenway Ford        26.236s  Q1
24.  Austin Dillon       Childress Chevrolet      26.239s  Q1
25.  AJ Allmendinger     JTG Daugherty Chevrolet  26.243s  Q1
26.  Michael McDowell    Leavine Ford             26.265s  Q1
27.  Martin Truex Jr     Furniture Row Chevrolet  26.296s  Q1
28.  David Gilliland     Front Row Ford           26.303s  Q1
29.  Marcos Ambrose      Petty Ford               26.317s  Q1
30.  David Ragan         Front Row Ford           26.318s  Q1
31.  Cole Whitt          Swan Toyota              26.330s  Q1
32.  Brian Scott         Childress Chevrolet      26.331s  Q1
33.  Danica Patrick      Stewart-Haas Chevrolet   26.365s  Q1
34.  Ryan Truex          BK Toyota                26.495s  Q1
35.  Alex Bowman         BK Toyota                26.546s  Q1
36.  Parker Kligerman    Swan Toyota              26.591s  Q1
37.  Blake Koch          Front Row Ford           26.615s  Q1
38.  Joe Nemechek        NEMCO Toyota             26.670s  Q1
39.  Reed Sorenson       Baldwin Chevrolet        26.687s  Q1
40.  Travis Kvapil       Go FAS Ford              26.712s  Q1
41.  Michael Annett      Baldwin Chevrolet        26.836s  Q1
42.  Morgan Shepherd     Shepherd Toyota          27.908s  Q1
43.  Justin Allgaier     HScott Chevrolet

Did not qualify:

     Josh Wise           Parsons Chevrolet        26.610s  Q1
     Landon Cassill      Hillman Chevrolet        26.644s  Q1
     Dave Blaney         Humphrey Ford            26.818s  Q1