Sebastien Loeb admits he is 'not ready' to beat Muller in the WTCC
| | |
| --- | --- |
| | Friday, February 28th 2014, 16:02 GMT |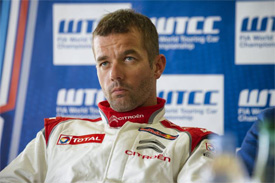 Sebastien Loeb insists he is not yet ready to beat Citroen team-mate Yvan Muller in the World Touring Car Championship.
Loeb, who enters his first year in the WTCC with nine consecutive World Rally Championship crowns to his name, has tested the C-Elysee on several occasions as he gears up for his race weekend debut at Marrakech on April 12-13.
On the basis of that testing form, Muller tipped Loeb to be a victory threat in 2014.
Loeb however insists he is not yet at the point where he expects to challenge Muller, a four-time champion in the WTCC.
"I know it will be difficult and therefore I'm working hard and trying to prepare myself to be as good as possible," Loeb said of his 2014 expectations.
"So far I still don't know where I am; my goal is comparing my performance with those of my team-mates and trying to improve.
"One thing is for sure: I don't think I'm ready to beat [Muller].
"I'm happy to work with him, because he knows very well the category and this kind of cars.
"For sure sometimes is difficult to be compared with the best, but it helps you to understand when you make mistake and how to improve.
"Of course this is a not an easy situation for myself, but I'm sure that will help me to grow up as a touring car driver."
Loeb was also adamant he does not want to contemplate competing in other disciplines - such as returning to Pikes Peak or entering the Dakar Rally - in order to focus his attentions wholly on the WTCC.
"I'm not interested for the time being," he said.
"My full focus in on WTCC now. It is a new and difficult challenge for me; I want to concentrate on it.
"Sometimes driving a touring car seems quite strange, because you must learn how to keep your speed while cornering and brake earlier.
"In my first test I found all this very difficult and even disturbing - now I think I am able to understand a bit better how to work with the car."