Adelaide V8 Supercars: Whincup, Lowndes get poles, Volvo on front row
| | |
| --- | --- |
| | Friday, February 28th 2014, 07:12 GMT |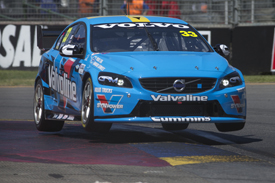 Jamie Whincup and Craig Lowndes claimed pole positions for V8 Supercars' season-opening races in Adelaide, as Volvo's Scott McLaughlin secured a shock front-row start.
Triple Eight duo Whincup and Lowndes dominated the day, with the reigning champion claiming the top spot in the first 15-minute qualifying race ahead of his team-mate.
Lowndes, however, fought back in the second heat to beat McLaughlin by 0.1103 seconds, as the Kiwi secured a front-row slot for Volvo in the new S60's debut in the series.
"That's been a lot of hard work," said GRM boss Garry Rogers, whose team runs the Volvos.
"These guys deserve such credit. It's been an exciting project as well. Polestar in Sweden have done a ripping job with the engines. A lot of credit has to go to a lot of people, but I'm thrilled to bits."
Ford Performance Racing's Mark Winterbottom qualified third for the first race in the quickest Ford, ahead of Holden Racing Team's James Courtney and McLaughlin.
Whincup, Jason Bright and Winterbottom completed the top five on the race-two grid, ahead of the top Mercedes of Lee Holdsworth.
Todd Kelly and Michael Carusso secured seventh places for race one and race two respectively as the fastest qualifiers for Nissan.
The first two races will take place on Saturday, with another qualifying session on Sunday ahead of the final race of the weekend.
Race one qualifying:

Pos  Driver               Team/Car               Time        Gap
 1.  Jamie Whincup        Triple Eight Holden    1m20.5849s
 2.  Craig Lowndes        Triple Eight Holden    1m20.7367s  +0.1518s
 3.  Mark Winterbottom    FPR Ford               1m20.8204s  +0.2355s
 4.  James Courtney       HRT Holden             1m20.8312s  +0.2463s
 5.  Scott McLaughlin     GRM Volvo              1m20.8350s  +0.2501s
 6.  Shane van Gisbergen  Tekno Holden           1m20.8459s  +0.2610s
 7.  Todd Kelly           Nissan                 1m20.9231s  +0.3382s
 8.  Scott Pye            Dick Johnson Ford      1m20.9479s  +0.3630s
 9.  Tim Slade            Walkinshaw/HRT Holden  1m20.9603s  +0.3754s
10.  Fabian Coulthard     Brad Jones Holden      1m21.0592s  +0.4743s
11.  Chaz Mostert         FPR Ford               1m21.0598s  +0.4749s
12.  Michael Caruso       Nissan                 1m21.0719s  +0.4870s
13.  Jason Bright         Brad Jones Holden      1m21.1735s  +0.5886s
14.  Rick Kelly           Nissan                 1m21.1935s  +0.6086s
15.  Garth Tander         HRT Holden             1m21.2250s  +0.6401s
16.  Lee Holdsworth       Erebus Mercedes        1m21.3285s  +0.7436s
17.  James Moffat         Nissan                 1m21.3611s  +0.7762s
18.  Russell Ingall       Dumbrell Holden        1m21.4766s  +0.8917s
19.  Dale Wood            Britek/BJR Holden      1m21.5583s  +0.9734s
20.  David Wall           Dick Johnson Ford      1m21.5764s  +0.9915s
21.  Robert Dahlgren      GRM Volvo              1m21.7651s  +1.1802s
22.  David Reynolds       Rod Nash/FPR Ford      1m21.8145s  +1.2296s
23.  Jack Perkins         Schwerkolt/FPR Ford    1m22.1294s  +1.5445s
24.  Will Davison         Erebus Mercedes        1m22.4255s  +1.8406s
25.  Nick Percat          Rosenberg/HRT Holden   1m23.3727s  +2.7878s

Race two qualifying:

Pos  Driver               Team/Car               Time        Gap
 1.  Craig Lowndes        Triple Eight Holden    1m20.4155s
 2.  Scott McLaughlin     GRM Volvo              1m20.5258s  +0.1103s
 3.  Jamie Whincup        Triple Eight Holden    1m20.5699s  +0.1544s
 4.  Jason Bright         Brad Jones Holden      1m20.6474s  +0.2319s
 5.  Mark Winterbottom    FPR Ford               1m20.6900s  +0.2745s
 6.  Lee Holdsworth       Erebus Mercedes        1m20.7119s  +0.2964s
 7.  Michael Caruso       Nissan                 1m20.7337s  +0.3182s
 8.  James Courtney       HRT Holden             1m20.7735s  +0.3580s
 9.  Scott Pye            Dick Johnson Ford      1m20.8208s  +0.4053s
10.  Chaz Mostert         FPR Ford               1m20.8530s  +0.4375s
11.  Todd Kelly           Nissan                 1m20.8712s  +0.4557s
12.  Tim Slade            Walkinshaw/HRT Holden  1m20.9075s  +0.4920s
13.  Nick Percat          Rosenberg/HRT Holden   1m20.9294s  +0.5139s
14.  James Moffat         Nissan                 1m20.9350s  +0.5195s
15.  Shane van Gisbergen  Tekno Holden           1m20.9576s  +0.5421s
16.  Fabian Coulthard     Brad Jones Holden      1m20.9642s  +0.5487s
17.  Rick Kelly           Nissan                 1m21.0138s  +0.5983s
18.  Garth Tander         HRT Holden             1m21.0163s  +0.6008s
19.  David Reynolds       Rod Nash/FPR Ford      1m21.1581s  +0.7426s
20.  Will Davison         Erebus Mercedes        1m21.1956s  +0.7801s
21.  David Wall           Dick Johnson Ford      1m21.2844s  +0.8689s
22.  Jack Perkins         Schwerkolt/FPR Ford    1m21.3997s  +0.9842s
23.  Dale Wood            Britek/BJR Holden      1m21.6160s  +1.2005s
24.  Russell Ingall       Dumbrell Holden        1m21.7130s  +1.2975s
25.  Robert Dahlgren      GRM Volvo              1m21.7925s  +1.3770s