Pastor Maldonado: Lotus must support Renault amid troubled F1 test
| | |
| --- | --- |
| By Edd Straw and Jonathan Noble | Thursday, February 27th 2014, 15:17 GMT |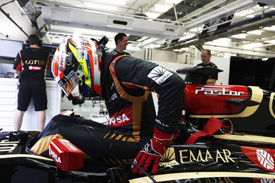 Pastor Maldonado says Lotus must keep faith that Renault will get on top of its Formula 1 engine issues soon, despite another difficult testing day in Bahrain.
Although the Venezuelan's running at Sakhir on Thursday was halted early by an exhaust problem rather than a power unit issue, the fact he managed only 31 laps indicated that Renault has not yet made the strides it needs to.
But rather than complain about the situation, Maldonado thinks it more important that Lotus focuses on doing all it can to help Renault.
"It is not what we want, but it is what we have," said Maldonado after his penultimate day of pre-season running. "We need to accept it and we need to keep working very hard.
"I think it is clear that at the moment Renault is not 100 per cent, but we are working together.
"I believe 100 per cent they can deliver the answers and the solution quite soon.

Bahrain test day one report
"We are open to work, open to do our best as a team. I think we have good potential. The car is not bad, but there are some mechanical problems around the engine, which is related to the rules."
Lotus has introduced a raft of updates to its E22 for the final test, claiming that there were 120 new parts fitted for Thursday.
The exhaust problem that stopped Maldonado was related to one of these new designs, and the team is set to revert to the old version for Friday's running.
TIME RUNNING OUT
Maldonado has admitted though that it is the engine issues that have really hurt the team's preparations, and left it in desperate need of more running over the remainder of the week.
"It is so very complicated to determine something here for the first race," he said. "I know there are only two weeks to go, and for sure we want to do more laps, just to see how the car is and how it is responding to many laps.

Bahrain F1 test in pictures
"At the moment we are doing around a 10-lap run, something like that. It is not bad, but we need something more. We need to extend our runs to 25 laps, 20 laps, to have a clearer idea."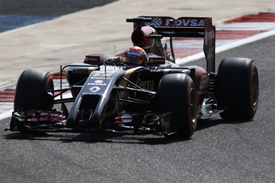 Asked if three days of good running would be sufficient to leave the team in decent shape for Australia, Maldonado replied: "It must be enough. We don't have any more days.
"In three days you can do a lot, if you don't have any big issues like we had today.
"We need some long runs, we need some starts, and we need different settings just to know the car better, to see the reaction of the car.
"But at the moment it is too early to say we will be competitive or not competitive [in Australia]. It is looking like it will be difficult, but you never know."
AUTOSPORT Live coverage of the final 2014 pre-season F1 test in Bahrain will resume from 6am UK time on Friday