Bahrain test is final chance for Formula 1 teams
| | |
| --- | --- |
| By Edd Straw | Wednesday, February 26th 2014, 12:47 GMT |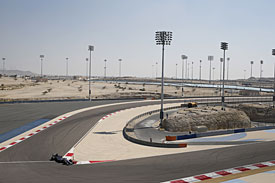 Formula 1's final pre-season test kicks off in Bahrain on Thursday, giving teams and drivers their final opportunity to prepare for the 2014 season.
With just four days of running left before Friday practice at the season-opening Australian Grand Prix on March 14, the teams in best shape are aiming to focus on upgrades, car performance and race simulations.
So far, only Mercedes-powered teams have attempted race simulations and with the 100kg-per-race fuel limit placing a premium on efficiency, there is still uncertainty over how races will pan out.
This means that any team that has not completed a proper race distance will head into the Australian GP blind.

Ten things we learned from Bahrain F1 test
With most teams launching a relatively basic car specification to allow work to focus on understanding the new 1.6-litre turbocharged V6 engines, there were relatively few major upgrades in the previous test meaning that most squads are planning car changes for Bahrain.
Those able to run reliably will be best-placed to evaluate aerodynamic upgrades as well as continuing to refine the way that the engines run to achieve the best car balance.
So far, Mercedes-powered teams have led the way, although one of the major talking points of the test will be Ferrari's progress as the Scuderia has yet to show its hand publicly and appears to be lagging behind the Mercedes works team.
RENAULT QUESTION MARKS
A litany of problems with the Renault engine has restricted running, with Red Bull, Lotus, Toro Rosso and Caterham logging only 4019km between them during the first eight days of testing - compared to the 3073km achieved by the Mercedes team alone.
Other than Ferrari-powered Marussia, the four Renault-engined teams are the least prepared heading into the final test.
Renault made changes to its energy store, both on the hardware and software side, for the last Bahrain test and also supplied two stages of control system software, the first a very conservative version designed to allow the cars to run as reliably as possible, and the second a more aggressive version for improved performance.
As Renault is adamant its hardware is up to scratch, the focus will be on software and the way the engines are operated when testing gets underway.

Light at the end of the tunnel for Renault
"We have made some good headway in terms of PU [power unit] performance and operation in the car, we are now in a situation we could have accepted mid-Jerez," said Renault Sport F1 deputy managing director Rob White after last week's test in Bahrain.
"We are not back on schedule but we are moving in the right direction - the running we have done is very valuable.
"The challenge is to improve the rate of progress, because the gap to where we wanted to be at this stage remains substantial.
"We remain confident in the PU and its sub systems, we are just not at the level of operation and performance we want to be.
"The immaturity of the PU combined with the time lost to incidents means the chassis work to prepare for the season is also behind schedule.
"From this point on we must pursue and accelerate an upward curve."
NO RACE SIM YET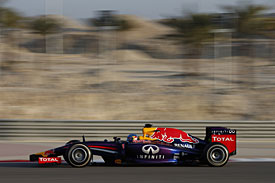 No Renault team has yet completed a race simulation, although Lotus was hopeful of being able to attempt one in Bahrain.
The team enjoyed an encouraging final day in the previous test and is confident that it can close the performance gap to the front.
"That will be one of our priorities next week, to try and do a race sim so maybe second day you will be looking at that," said Lotus technical director Nick Chester.

Gary Anderson predicts 2014 F1 pecking order
"There is a lot of progression yet to come. It would be brave to say we could take all 5.4 seconds out [compared to last test pacesetter Nico Rosberg's time] but there are a lot of areas where we will make a lot of progress."
Chester even talked up the possibility of emerging as the lead Renault-powered team this year and with the reigning world champion team struggling throughout testing so far, Red Bull's progress in Bahrain will be one of the stories of the coming four days.
Follow the final Bahrain test as it happens from 6am UK time with AUTOSPORT Live.