Energy recovery contributing to Renault F1 test issues, says Horner
| | |
| --- | --- |
| By Edd Straw | Friday, February 21st 2014, 09:29 GMT |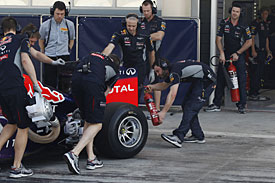 Renault's struggles to get on top of Formula 1's energy recovery systems are contributing to its pre-season testing woes, according to Red Bull team principal Christian Horner.
The French manufacturer has less experience of energy recovery systems in F1 as when KERS originally came into the sport in 2009 it was reliant on its works team to head up development of the unit.
Red Bull, which developed its own KERS unit for its championship winning cars from 2011-13, has been working with Renault to help troubleshoot the problems.
"We have been supporting them with our experience on the whole energy recovery side of the package," Horner told AUTOSPORT when pressed on Red Bull's role in working with Renault on the ERS.
"That's where we can contribute the most and that's where the biggest issues are at the moment.
"We have had a limited involvement, and are getting more and more involved."
Horner believes that former Renault team principal Flavio Briatore's decision that his team (now Lotus) rather than the French manufacturer itself should develop KERS originally is at the heart of the struggles.
While this was a logical move at the time, it was decided when such systems were less complex and could be bolted onto existing engines, meaning that Renault has less experience than it otherwise would in this area.

Red Bull crisis continues in Bahrain
"If you look at the situation at Renault, Flavio made the decision years ago that energy recovery and KERS would be dealt with by the race team, not the engine manufacturer.
"Renault then sold the race team and we picked up KERS and developed our own system that we ran within the gearbox.
"Now, on the new powertrain, energy recovery has gone back to being the responsibility of the engine supplier, which is where it should sit but they have had a steeper learning curve than perhaps Mercedes or Ferrari who have a few years of experience."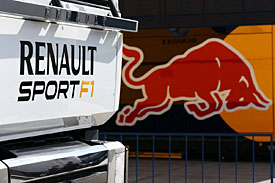 Horner also paid tribute to the response both from his team, which has been working flat out, and Renault in solving the problems.
While there are still issues, major changes have been made to the Red Bull RB10 since the opening test at Jerez.
But the late shipping of components meant that the team lost a lot of running on the first day of the Bahrain test on Wednesday as it prepped the car.
"There have been significant changes from the first test in Jerez, so the lead times and getting components made, along with the fact that the test isn't in Europe and is seven or eight hours away, has made things tighter.
"It has had its challenges, but the way that the team has responded to it and the way that Renault is responding is everything you could ask for."