Bahrain F1 test: Red Bull not catching up yet - Sebastian Vettel
| | |
| --- | --- |
| By Edd Straw and Pablo Elizalde | Thursday, February 20th 2014, 16:57 GMT |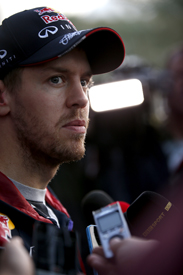 Sebastian Vettel says it is still too early to think his Red Bull team is catching up with its Formula 1 rivals despite his best day of testing of 2014.
The world champion covered 59 laps on the second day of testing in Bahrain on his way to the seventh fastest time of the session.
That total exceeded what Vettel had managed during his previous three days of work this year.
While Vettel admitted every lap helped Red Bull, he conceded it was still too early to judge where his team stands.
"It's difficult to say, to talk about catching up," said Vettel, who will be replaced by team-mate Daniel Ricciardo for the remaining two days of testing.

Bahrain test day two report
"I don't know what the other people are doing but obviously we did more laps today than so far the whole year which is a step forward.
"We are learning every single lap, that's why we try to run as much as possible even if the quality of the laps sometimes is not the best. But most important to us is simply to run."
The four-time F1 champion said Thursday was his first chance to get a proper feel of how the RB10 behaves when pushed.
Vettel had managed just 14 laps on Wednesday.

Bahrain F1 test in pictures
"We did more laps today so that's encouraging," he said. "It's good to check the car, good to check the reliability but there is a lot of stuff still to do.
"But it was good to get a first feel. The car feels alright but there is a lot more to come hopefully if everything fits together.
"We know the problems, we try to understand all of them and try to fix them. It's as simple as that.
"It's difficult to give a forecast on how tomorrow is going to be, how next week is going to be so we just have to go step by step."