Daytona 500: Big crash disrupts Wednesday practice
| | |
| --- | --- |
| | Thursday, February 20th 2014, 06:47 GMT |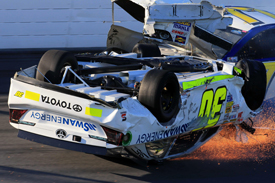 Daytona 500 practice on Wednesday was interrupted by a multi-car accident that left Parker Kligerman upside down and damaged the track's fencing.
The incident began when Joey Logano tapped Matt Kenseth, sending the Joe Gibbs Toyota into a spin that collected several cars.
NASCAR Sprint Cup rookie Kligerman came off worst as his Swan Toyota climbed into the fencing in contact with Paul Menard and Ryan Truex, before turning upside down and sliding down the track on its roof.
The practice session had to be halted while damage to the fence, which was reinforced following last year's massive Nationwide Series accident that caused injuries to spectators, was repaired.
Kligerman and Menard both slammed Logano for prompting the incident.
"What are you doing - why are you side-drafting and bumping people in the first drafting practice we've done all week?" said Kligerman.
"He's supposed to be a veteran. You go up here to the Sprint Cup Series, and it's supposed to be the best of the best, and you've got a guy in practice who wants to race people like that like it's the end of the Daytona 500."
'COULD HAVE BEEN A LOT WORSE'
Richard Childress Racing driver Menard felt it was only good fortune that prevented any injuries.
"It turns out Joey was bump-drafting the #20 in the middle of the pack when we were trying to get up to speed. I guess that's the end result," he said.
"Fortunately Parker's OK and nobody in the stands got hurt, but it could have been a lot worse."
While Logano admitted to a degree of over-aggressive, he argued that drafting in practice was essential for race preparations.
"Maybe I shouldn't have been racing as hard as I was in practice, but there was a big pack there and we were all trying to make things happen," he said.
Kenseth said he had just been trying to stay out of trouble when he was hit.
"I was staying straight and the #22 got right on me and moved my car to the left a little bit," he recounted.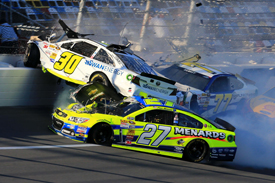 "I still straightened it up and we had plenty of room for everybody, but then he clipped my right rear somehow and that seemed to trigger it.
"I was just trying to get out of there and get to the pits, but when you're stuck in the middle you've just got to wait until everything clears out."
The accident came shortly after another crash in which Kligerman's team-mate Cole Whitt slid into the wall and then Brian Vickers spun into the barriers as he clipped Casey Mears while reacting to the incident.
Menard, Vickers, Ryan Truex, Kligerman, Logano and Dave Blaney will all need to switch to back-up cars - and therefore start at the back - for Thursday night's Duel qualifying races.
AJ Allmendinger was fastest in the first session before it was halted by the accident. Sprint Unlimited winner Denny Hamlin topped the extended evening session.
Follow the Daytona 500 as it happens with AUTOSPORT Race Centre Live from 5pm UK time on Sunday