Felipe Massa sanguine about Williams issues in Bahrain F1 test
| | |
| --- | --- |
| By Ben Anderson | Wednesday, February 19th 2014, 17:07 GMT |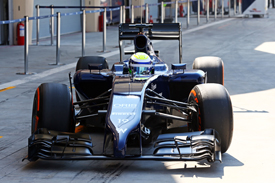 Felipe Massa says his lack of running on the opening day of the second pre-season Formula 1 test in Bahrain is not a major setback for his Williams team.
Massa topped the final day of the first test at Jerez but completed just five laps on day one at Sakhir, as the FW36 suffered from a "fuel system issue" that required the team to dismantle the car and investigate the fuel cell.
The Brazilian said it was not clear where the problem originated, but reckoned it would not hold the team back despite the premium being placed on reliability ahead of the season-opening Australian Grand Prix.
"I think when you don't drive it is not positive," said Massa. "But when everything changes it can happen. It's pretty normal. Not just for us, but for many teams.
"We don't understand 100 per cent why the problem happened, because every time we have this problem we have to dismount the car, mount again, and every time you mount and dismount you lose three hours.
"We need to pass through so many things and I hope tomorrow will be OK."

Bahrain test day one report
Massa said he was not concerned for Williams's prospects for the rest of the four-day test, despite rival Mercedes-engined teams completing 233 laps of running between them on the first day.
"I don't think it should be a big problem," added Massa, who will hand the car over to team-mate Valtteri Bottas for Thursday.
"We saw that most of the Mercedes teams could run today; we could run in Jerez so I'm not so worried because we ran already.
"It's not the first time we put the car on the track. We did many laps, but it's important to understand quickly what this problem is.
"For sure it is a bit frustrating for everybody but it can happen at this stage.
"The car is new. Sometimes things happen and you don't understand why, but I think it's important to pass through this problem and understand everything about the car.
"We know when we arrive in Australia, maybe reliability is more important than anything."