Analysis: Bahrain F1 test crunch time for Red Bull, Renault teams
| | |
| --- | --- |
| By Edd Straw | Tuesday, February 18th 2014, 10:53 GMT |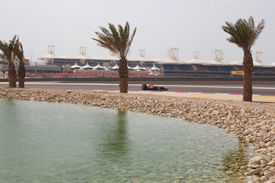 Formula 1's pre-season testing programme gets back underway in Bahrain on Wednesday, with all eyes on Renault's promised engine fixes.
The French marque endured a disastrous first test at Jerez two weeks ago and has promised changes both to the engine hardware and software that is hoped will allow its four teams to rack up significant mileage in the two remaining tests in Bahrain.
With the Lotus E22 making its public debut in Bahrain having run two promotional event days at Jerez on February 8-9 and managing 100kms on the second of those days, reigning champion Red Bull is the team with the smallest mileage completed.

Jerez test summary and full results
That makes this week potentially decisive in Red Bull's hopes of defending its title as with the engine homologation deadline on February 28, time is running out to troubleshoot problems if they do arise.
But Renault's head of track operations Remi Taffin is confident that the work done away from the circuits has been effective.
"I don't think we are missing any facilities to try to work out the best way and to find problems and to solve them," said Taffin when asked by AUTOSPORT about Renault's dyno facilities.
"It's not like we have a raffle of problems, we had two or three big problems that we have now solved and that's why I am always talking about hardware and software.
"The hardware is on the line, but we have to do a lot of work on the software and calibration.
"That's the main area we are working on and we have the right facilities to do that. It's a question of time."
UPGRADES TO COME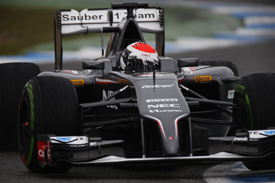 Many cars ran at Jerez in a relatively basic launch specification with the focus on getting mileage on the engines.
It is anticipated that there will be a raft of front wing changes, in particular, in Bahrain because many teams ran initially with very similar packages to 2013.
With the wings now 150mm narrower than they were in 2013, more substantial changes are expected from those teams.
Sauber, for example, has confirmed that it will have a package that is close to Australian GP-specification, with new front and rear wings as well as other aerodynamic detail work.
"In Bahrain we are going to have an aerodynamic package that should be almost in race trim, except for a few components maybe," said chief designer Eric Gandelin.
"So the idea is to be ready on the mechanical side and we can get there and start to work on performance."
WHO IS FASTEST?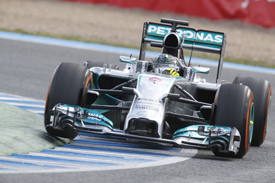 Mercedes emerged as the star turn of the Jerez test, not because of its outright pace but because of reliability and engine performance.
Crucially, it was the only team to complete a proper race simulation, with Nico Rosberg managing to go five laps beyond the 69-lap race distance at Jerez.
While this put the marque's works team, and Mercedes-powered Williams, Force India and McLaren, in an encouraging position only in Bahrain will the watching world start to see any hint of a competitive order.

What we learned at Jerez
Ferrari also showed well, particularly with the apparent drivability of its power unit, meaning that the Scuderia could also emerge as a pacesetter in Bahrain.
As for the Renault teams, their struggles in Spain mean that there is significant room for improvement. If the engines run well in Bahrain, the teams' so-far unseen potential will also begin to emerge.
This week's Bahrain test runs from Wednesday to Saturday, with the final test of winter 2014 also taking place at Sakhir from Thursday February 27 to Sunday March 2.
AUTOSPORT Live will provide as-it-happens commentary and insight from the Bahrain F1 tests, starting at 5.45am GMT on Wednesday