Citroen defends Kris Meeke's Rally Sweden performance
| | |
| --- | --- |
| By David Evans | Thursday, February 13th 2014, 17:03 GMT |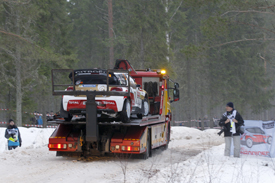 Citroen team principal Yves Matton has praised Kris Meeke's Rally Sweden debut, pointing out that he fared better than Sebastien Loeb on his first snow events.
Meeke was running sixth for much of last weeke's event before an error dropped him to 10th on the final morning.

Rally Sweden report
"He did a very good job, in fact he did the perfect job if you look at his first result on this rally - he was better than Sebastien Loeb," said Matton.
Loeb retired from his first Rally Sweden when engine failure silenced his Citroen Saxo in 2001.
The following year, his first attempt at the event in a Xsara WRC resulted in 17th place after a tough rally that included time-consuming trips off the road.
While Loeb eventually went on to win in Karlstad, he admitted the Swedish stages were some of the few in the world he never felt he completely mastered.
Meeke had an incident on the shakedown but was running comfortably in the top six before a minor error on the final morning cost him seven minutes after he understeered into a snow bank.
"This was my first time in Sweden," he said. "I came looking for experience and I guess if I didn't have that problem this time then I would have it at some stage.
"I think we can challenge here. OK, we will need some more experience and we will need to come back and drive this rally as a real winter event with the full winter conditions, but the roads really suit me - they are nice and fast."