Superstars successor EuroV8 expects at least 16 cars for 2014
| | |
| --- | --- |
| By Andrew van Leeuwen | Thursday, February 13th 2014, 14:02 GMT |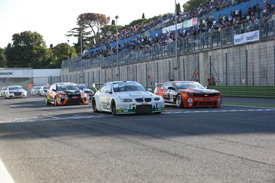 Six teams have officially signed on for the 2014 EuroV8 Series, with promoter FG Group confident that an average grid of 16 cars is achievable across the season.
The EuroV8 Series has been created as a stop-gap solution for 2014, with the transformation of the Superstars International Series into the league-based SuperTouringSeries format having been delayed for a year until 2015.
With existing Superstars-spec cars valid for EuroV8s, FG Group has signed deals with Audi Sport Italia (Audi RS5), Team BMW Dinamic (BMW M3), Scuderia Giudici (BMW M3), MRT by Nocentini (Lexus ISF), Solaris Motosport (Chevrolet Camaro) and Roma Racing Team (Mercedes C63) to compete in all six rounds of this season.
Teams such as Romeo Ferraris and CAAL Racing have also expressed an interest in competing.
"The grid is looking like it will be bigger than we expected," FG Group's managing director Vincenzo Lamaro told AUTOSPORT.
"We have six teams signed, and another six wanting to race. I'd say we are looking at a minimum grid of 16 cars."
Lamaro also confirmed that the new format is on-track to kick-off in 2015, and that there is the possibility of new generation cars popping up in EuroV8s later this season.
"The super-league concept is still the project for 2015," he said. "We hope to be announcing more about that this summer.
"The cars will start the 2014 season in the same specification as last year, but hopefully by the middle of the season we will see some of the new models that will be racing in 2015."