Sweden WRC round rejects calls for new route after snow shortage
| | |
| --- | --- |
| By David Evans | Wednesday, February 12th 2014, 14:38 GMT |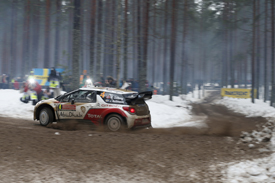 Rally Sweden promoter Glen Olsson says he has no intention of moving the event north despite the lack of snow or ice on much of the 2014 route.
The World Rally Championship's only winter round was run mostly in temperatures above freezing and with very little snow cover on the Swedish stages.
The opening day - run across the border in Norway - had better conditions, but still the drivers felt the roads were far from perfect and called for a move north to stages with guaranteed snow.

Full Rally Sweden report
Olsson ruled a change of location out.
"If we go north to Ostersund, the weather is just the same - we have to go way, way north into the mountains and there aren't many hotels up there..." he said.
"I don't know if this weather issue is a real issue - we have winter conditions with the snow and last year we had a lot of ice on the road."
Citroen's Mads Ostberg said: "On the line on the road, it was 100 per cent gravel. I think the event should move it to Ostersund, this would be a good idea.
"They have the facilities to run this event and they have the roads to do it."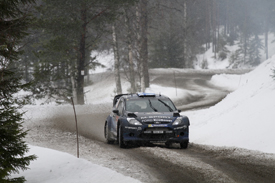 M-Sport driver Mikko Hirvonen added: "It's always a little bit of a risk on this event.
"OK, the last two years have not been so bad, but you never really know how is it going to be when you get here.
"Maybe it's easier to find the solution for global warming than finding a new place for this rally...
"It's not so nice to drive on gravel and without the snowbanks and I have to say, I have never seen such deep ruts as on this rally.
"For the first time I was worried that we were going to get a puncture from some of these really sharp stones from just driving on the line.
"And repairing the roads with ruts like this is really going to cost the organisers a lot."