Red Bull ends Jerez F1 test early after troubled week
| | |
| --- | --- |
| By Jonathan Noble | Friday, January 31st 2014, 13:00 GMT |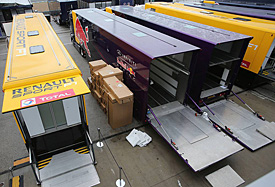 Red Bull called an early end to its troubled week of Formula 1 testing at Jerez in Spain on Friday.
The reigning world champion outfit has had a nightmare four days with its RB10, after suffering a spate of overheating and power unit problems.
Race drivers Sebastian Vettel and Daniel Ricciardo managed just 21 laps over the four days of testing at Jerez.

Red Bull and Renault's problems - in-depth analysis
On Friday, in a bid to cure the overheating, it opened up extra vents in its sidepods to try to help matters (pictured below).
But despite making a little progress, it was then stopped by an unspecified mechanical failure on the car that meant it called time on its running at lunchtime.
Team principal Christian Horner remained upbeat that, despite the troubles of the week, Red Bull could make significant progress before the next test in Bahrain.
"It's been a very difficult test," he said. "We have had numerous Renault issues as well as chassis cooling issues, which have affected our progress.
"However, despite the lack of mileage, what we have managed to learn shows that the problems should be solvable for the next test in Bahrain.
"Part of the purpose of this early test was to learn about any issues ahead of the start of the season and there will now be a lot of focus on the dyno over the next few weeks."
FINDING A CURE
Red Bull's overheating issues are believed to relate to the packaging of the engine inside the back of the car.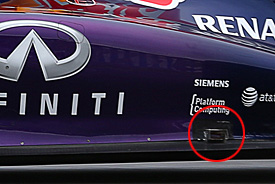 It is in this area that both team and engine manufacturer are going to have to focus their efforts over the next two weeks before the next test in Jerez.
Beyond the Red Bull issues, Renault has also encountered a series of software glitches that have left it unable to complete as much mileage it had hoped for.
However, its engine chief Rob White told AUTOSPORT that he was confident there was enough time to implement fixes before the next test.
"We had objectives for the first test that won't have been fully realised and therefore the step up we need for Bahrain is absolutely bigger," he said.
"But we are determined and committed to get there and we will work with the teams to fix the problem."