Level 5 Ferrari handed back Daytona 24 Hours GT victory post-race
| | |
| --- | --- |
| By Gary Watkins | Monday, January 27th 2014, 08:32 GMT |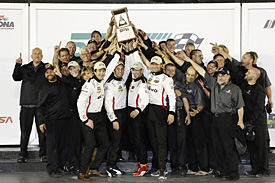 The Level 5 Motorsports Ferrari has been declared the winner of the GTD class at the Daytona 24 Hours.
The penalty for its entry driven by Alessandro Pier Guidi, Townsend Bell, Jeff Segal, Bill Sweedler and Scott Tucker, which took the chequered flag in the lead, has been overturned by the supervisory officials of United SportsCar Championship sanctioning body IMSA.

Level 5 was penalised as a result of a last-lap incident between Pier Guidi and Flying Lizards Audi driver Markus Winkelhock, which dropped its Ferrari to fourth in class in the provisional race results.

The 75-second penalty was given for "avoidable contact" on the part of Pier Guidi, but the supervisory officials overturned the decision made by the race director and removed the time penalty.

IMSA competitions boss Scot Elkins, who is one of the supervisory officials, explained that the fact that there was no contact between the Audi and the Ferrari was not the determining factor in the decision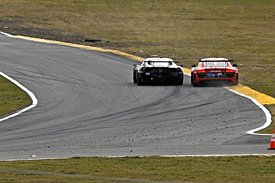 "It is called avoidable contact, but contact isn't necessarily needed to invoke the penalty," he said.

"We came to the conclusion that it was a racing incident."

The incident happened on the infield kink when Winkelhock edged ahead on the outside before going off track as Pier Guidi moved over and gave him no room.

Winkelhock and team-mates Tim Pappas, Nelson Canache and Spencer Pumpelly are second in class in the final results.