Adrian Sutil admits weight has been a focus for 2014 F1 season
| | |
| --- | --- |
| | Sunday, January 26th 2014, 15:28 GMT |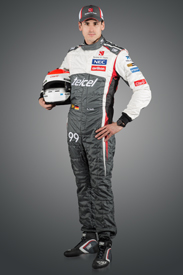 Adrian Sutil admits he is having to focus on losing weight ahead of the 2014 Formula 1 season due to the revised technical regulations.
There were concerns last year that the change to more environmentally friendly turbocharged V6 engines would penalise taller and heavier drivers because the new systems would make it hard for teams to get down to the minimum weight with their designs - putting an emphasis on drivers to be as light as possible.
The 184cm tall Sutil said in an interview as part of Sauber's online 2014 car launch that losing weight had been a winter priority.
"Training is going on as usual but with more focus on losing weight," he admitted.
"I'm a tall driver and I was always on the limit with the weight. But now I have to reduce the last few kilos.
"I'm on it already. I didn't eat too much over Christmas and New Year..."

Sauber launches its 2014 F1 car
Sutil has joined Sauber for 2014 after spending his entire F1 career so far with various iterations of the Force India team, which he first joined as a test driver in '06 when it was known as Midland.
He believes this year's major regulation changes have minimised any disadvantage from having to acclimatise to a new team.
"You need time to adapt yourself, but I think this year it's completely new for everyone," Sutil said.
"So to change teams right now is not a bad thing to do because you don't have a disadvantage to other drivers.
"Everyone is at the same point right now."
Sutil added that he has set an initial goal of being eighth or higher in this year's championship.
"I always try to improve and I would say my best season was 2011," he explained.
"I finished ninth in the championship so my realistic targets would be to be better than ninth.
"But we are very early here."