Daytona 24 Hours: Memo Gidley has arm and leg surgery after crash
| | |
| --- | --- |
| | Sunday, January 26th 2014, 07:08 GMT |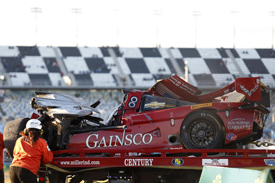 Memo Gidley has undergone arm and leg surgery in hospital following his massive Daytona 24 Hours crash.
Gidley and Matteo Malucelli were taken to Halifax Health Medical Center in Daytona Beach after a violent accident just before the race's three-hour mark.
The American's GAINSCO/Bob Stallings Coyote-Chevrolet had slammed into Malucelli's Risi Ferrari as the GT car slowed on the kink in the infield section with a loss of drive.
The race had to be red-flagged while the drivers were extracted from their cars.
United SportsCar Championship organiser IMSA's initial update was that both drivers were awake and communicating in hospital.
The Stallings team announced in the early hours of the morning that surgery was carried out on Gidley's left arm and left leg.
"He is currently under observation and further evaluation at Halifax Health. We will continue to provide updates as they are available," said a team statement.
Malucelli also remains under observation in hospital.