Ron Dennis's F1 return galvanises McLaren - Jenson Button
| | |
| --- | --- |
| By Jonathan Noble | Friday, January 24th 2014, 13:18 GMT |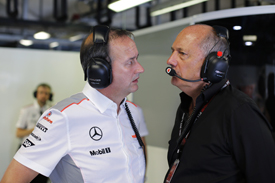 Ron Dennis's return to the helm of the McLaren Formula 1 team has left senior figures 'excited' about what the future holds.
McLaren announced last week that Dennis had been appointed as Group CEO with the mandate to conduct a thorough review of the operations of its racing team.
The first major change is set to be the replacement of team principal Martin Whitmarsh, with former Lotus boss Eric Boullier favourite for the role. An announcement about the management plans is expected next month.

Analysis: Dennis move a turning point for McLaren
McLaren managing director Jonathan Neale said after the launch of the team's 2014 challenger that Dennis was relishing his return to F1 duties - which boded well for the team's future.
"For those that know Ron he is as fired up as he ever has been," explained Neale. "[He is] more passionate now than ever.
"He is excited about the changes we have ahead of us. He is very operational with us in the business, he has a very strong vision about the brand and the values, and not just about making sure McLaren is totally focused on winning, but how we win.
"There is that way that McLaren go about things. And if ever there was somebody who had a strong vision and a sense of true north and how it is to win in F1 and why that is important, he has got it in spades. It is exciting times."

McLaren launches its 2014 F1 car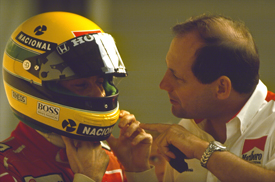 Jenson Button, who joined McLaren after Dennis relinquished his team boss role in 2009, said that he was boosted by the prospect of where the team was now heading.
"This team under Ron has won multiple world championships, with Ayrton [Senna] and Alain [Prost] and before," he explained.
"There is so much history of Ron and this team. He is a true racer and a true fighter; he really has built this team up over the years.
"It is good for this team and good for Ron that he has this chance to drive this team on again, and everyone here is excited about the challenge of 2014 with Ron in charge."
McLaren made no mention of its team principal plans during its launch event on Friday, but the absence of Whitmarsh from any media material has made it clear that he is unlikely to remain a part of the F1 team.