Daytona 24 Hours: Alex Gurney puts GAINSCO Corvette DP on pole
| | |
| --- | --- |
| By Gary Watkins | Thursday, January 23rd 2014, 22:48 GMT |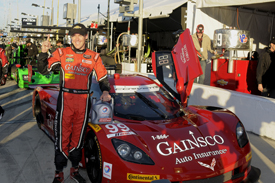 Alex Gurney claimed Daytona 24 Hours pole position for the GAINSCO/Bob Stallings team as the Daytona Prototypes blocked out the first seven positions on the grid.
Gurney came out on top in the three-way, Chevrolet-powered battle for pole the inaugural United SportsCar Championship event with Spirit of Daytona driver Richard Westbrook and early pacesetter Christian Fittipaldi from the Action Express team.
Gurney finished on 1m38.217s aboard his Riley-Chevrolet Corvette DP, which was two tenths quicker than Westbrook's best in his Coyote 'Vette-lookalike.
Fittipaldi's Chevy-powered Coyote was initially in the hunt but was ultimately bumped to fourth by Brendon Hartley in the Starworks Motorsport Riley-Dinan/BMW.
The Kiwi ended up with 1m38.525s, which was just four hundredths slower than Westbrook.

Daytona preview: US sportscar racing's moment of truth
Gurney, who also took pole at Daytona in 2007, said: "I'm really happy and pretty excited about this, because this is the biggest race of the year for me.
"All through testing we have concentrated on full-tank runs and when we took the fuel out, the time came."
Best of the rest behind the DPs in the Prototype class was the DeltaWing-Elan/Mazda DWC13, in which Katherine Legge ended up eighth - exactly one second from the pole.
P2 CARS STRUGGLE FOR PACE
The best P2 car was the Pickett Racing/Muscle Milk ORECA-Nissan 03 in 11th place with a time of 1m39.829s set by Lucas Luhr.
The Muscle Milk entry was the only P2 to end up ahead of the fastest contenders in the one-make Prototype Challenge class.
The Extreme Speed Motorsports HPD ARX-03b driven by Johannes van Overbeek was the second-fastest P2, albeit two seconds slower than Luhr.
Colin Braun was quickest in the PC division for the ORECA-Chevrolet FLM09. His best in the CORE-run entry of 1m41.777s just edged out Renger van der Zande for the top spot in class.
VIPER TOPS GT PACK
Marc Goossens claimed pole in the GT Le Mans class for Chrysler's SRT Viper squad with a time of 1m44.505s.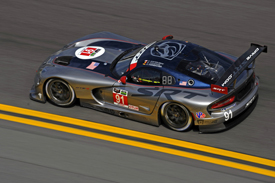 That put the Belgian less than a tenth of a second up on the factory CORE Autosport Porsche 911 RSR, which finished on a 1m44.582s.
The second Riley Technologies-run Viper GTS-R ended up third in the hands of Jonathan Bomarito, who was a further six hundredths in arrears.
A tenth back was the best of the new Chevrolet Corvette C7.Rs, which was fourth quickest with Oliver Gavin at the wheel.
Honours in the GT Daytona class went to the Paul Miller Racing Audi team and Christopher Haase. The German's time of 1m46.973s put him less than a tenth ahead of Toni Vilander's Scuderia Corsa Ferrari 458 Italia.
Pos  Cl   Drivers                                     Team/Car                 Time
 1.  P    Gurney/Fogarty/Gidley/Law                   GAINSCO Corvette         1m38.270s
 2.  P    Westbrook/Valiante/Rockenfeller             Spirit Corvette          1m38.487s
 3.  P    Mayer/Popow/Hartley                         Speedworks Riley-BMW     1m38.525s
 4.  P    Barbosa/Fittipaldi/Bourdais/Frisselle       Action Express Corvette  1m38.658s
 5.  P    Frisselle/Frisselle/Martin/Giroix           Action Express Corvette  1m38.838s
 6.  P    Dixon/Kanaan/Franchitti/Larson              Ganassi Riley-BMW        1m38.948s
 7.  P    Taylor/Angelelli/Taylor/Taylor              Taylor Corvette          1m39.023s
 8.  P    Meyrick/Legge/Rossi/Chaves                  DeltaWing                1m39.270s
 9.  P    Pruett/Rojas/McMurray/Karam                 Ganassi Riley-Ford       1m39.424s
10.  P    Pew/Negri/Allmendinger/Wilson               Shank Riley-Ford         1m39.761s
11.  P    Graf/Luhr/Brundle                           Pickett ORECA-Nissan     1m39.829s
12.  P    Curran/Said/Smith/Papis                     Marsh Corvette           1m40.570s
13.  P    DeFoor/Pace/Beck/Hinton                     Highway Riley-BMW        1m41.587s
14.  PC   Bennett/Gue/Braun/Wilkins                   CORE FLM                 1m41.777s
15.  PC   Schultis/Lux/van der Zande/Bird             Starworks FLM            1m41.815s
16.  P    Brown/van Overbeek/Pagenaud/Lazzaro         Extreme Speed HPD        1m41.885s
17.  PC   Ende/Junqueira/Heinemeier Hansson           RSR FLM                  1m41.932s
18.  PC   Ostella/Matos/Drissi/Casagrande/Campos      Performance FLM          1m42.053s
19.  P    Sharp/Dalziel/Brabham                       Extreme Speed HPD        1m42.157s
20.  PC   Cumming/Tagliani/Mitchell/Daly              RSR FLM                  1m42.187s
21.  PC   Rayhall/Kovacic/Bielefield/Kearby/Kasemets  BAR1 FLM                 1m42.416s
22.  PC   Montecalvo/Jeannette/Cheng/Guasch           PR1 FLM                  1m43.156s
23.  P    Pla/Rusinov/Yacaman/Webb                    OAK Morgan-Nissan        1m43.420s
24.  PC   Popow/Fuentes/Tutumlu/Marcelli/Kaffer       Starworks FLM            1m44.126s
25.  GT   Farnbacher/Goossens/Hunter-Reay             SRT Viper                1m44.506s
26.  GT   Tandy/Lietz/Pilet                           CORE Porsche             1m44.582s
27.  GT   Bell/Bomarito/Wittmer                       SRT Viper                1m44.617s
28.  GT   Gavin/Milner/Liddell                        Corvette                 1m44.729s
29.  GT   Long/Christensen/Bergmeister                CORE Porsche             1m44.746s
30.  GT   Mucke/Turner/Lamy/Stanaway/Dalla Lana       Aston Martin             1m45.439s
31.  GT   Muller/Edwards/Rahal/Werner                 RLL BMW                  1m45.667s
32.  GT   Auberlen/Priaulx/Hand/Martin                RLL BMW                  1m45.672s
33.  GT   Krohn/Jonsson/Bertolini/Dumbreck            Krohn Ferrari            1m46.863s
34.  GTD  Miller/Rast/Haase/Bell                      Miller Audi              1m46.973s
35.  GTD  Balzan/Westphal/Vilander/Case               Corsa Ferrari            1m47.028s
36.  GTD  Putman/Espenlaub/Jarvis/Walker              Fall-Line Audi           1m47.050s
37.  GTD  Longo/Serra/Negrao/Gomes                    Corsa Ferrari            1m47.052s
38.  GTD  Block/Carter/Davis/Davison                  TRG Aston Martin         1m47.055s
39.  GTD  Tucker/Sweedler/Bell/Segal/Pier Guidi       Ferrari                  1m47.062s
40.  GTD  Keating/Bleekemolen/Bleekemolen             Riley SRT Viper          1m47.255s
41.  GTD  Tucker/LaMarra/Borcheller/Cosmo             Level 5 Ferrari          1m47.348s
42.  GTD  Norman/Stanton/Siedler/Bernhard             Park Place Porsche       1m47.354s
43.  GTD  Rotenberg/Zlobin/Mediani/Salo/Aleshin       SMP/ESM Ferrari          1m47.361s
44.  GTD  Lockie/McIntosh/Nimkroff/Riddle             TRG Aston Martin         1m47.404s
45.  GTD  Cameron/Dalla Lana/Farfus/Palttala          Turner BMW               1m47.418s
46.  GTD  Foster/Dempsey/Davis/Lieb                   Dempsey Porsche          1m47.490s
47.  GTD  Amos/Bamber/Blum/Imperatori/Zitza           Muehlner Porsche         1m47.561s
48.  GTD  Potter/Lally/Henzler/Dumolin                Magnus Porsche           1m47.572s
49.  GTD  MacNeil/Keen/van Gisbergen/Lewis            Alex Job Porsche         1m47.647s
50.  GTD  Snow/Heylen/Seefried                        Snow Porsche             1m47.649s
51.  GTD  Cisneros/Giermaziak/Nielsen/Thiim           NGT Porsche              1m47.742s
52.  GTD  Lindsey/Estre/De Phillippi/Hart/Vess        Park Place Porsche       1m47.749s
53.  GTD  James/Farnbacher/Holzer/Riberas             Alex Job Porsche         1m47.952s
54.  GTD  Canache/Pumpelly/Pappas/Winkelhock          Flying Lizard Audi       1m48.045s
55.  GTD  Faulkner/Huisman/Faieta                     GB Porsche               1m48.049s
56.  GTD  Neiman/von Moltke/Latif/Albuquerque         Flying Lizard Audi       1m48.140s
57.  GTD  Welch/Sofronas/Stippler/Basseng             GMG Audi                 1m48.381s
58.  GTD  Griffin/Cioci/Rugolo/Gerber                 Spirit of Race Ferrari   1m48.438s
59.  GTD  Engelhart/Ineichen/Bachler/Willsey          Dempsey Porsche          1m48.741s
60.  GTD  Randall/Farano/Wilden/Empringham            Corsa Ferrari            1m48.758s
61.  GTD  Doyle/Gewirtz/Kvamme/Michaelian             Muehlner Porsche         1m48.821s
62.  P    Tremblay/Long/Hinchcliffe                   Speedsource Mazda        1m49.734s
63.  P    Miller/Nunez/Vautier                        Speedsource Mazda        1m50.251s