Formula 1 plans to ban tyre warmers for 2015
| | |
| --- | --- |
| By Jonathan Noble | Thursday, January 23rd 2014, 18:46 GMT |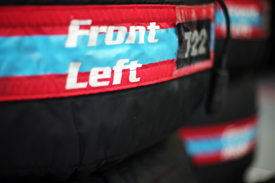 Formula 1 is to make another attempt to ban tyre warmers in 2015.
Previous efforts to introduce a ban have been scuppered because of safety concerns, amid worries from drivers about racing on cold tyres.
But as part of a raft of changes proposed for 2015, the FIA announced on Thursday that all forms of tyre heating devices will be outlawed.
Pirelli motorsport director Paul Hembery said in 2012, when there was last talk of a tyre warmer ban, that if there was enough preparation time then a ban could work.
"What we have found in the past, when we have tried to discuss it, is that the drivers have tended to be worried about such a move, as they feel that it can create a safety issue," he said.
"From our point of view, yes we can do it but we need time to do it - because it changes completely the compounds that you use."
Further changes for 2015 include the fact that teams will no longer need to design and manufacture their own unique suspension and brake ducts, which should help reduce costs.
A wider range of budget controls, and the framework for a cost cap, should be agreed by June this year.
The FIA has also ratified that the minimum weight of cars will increase by 10kg to 701kg in 2015 - which should help alleviate concerns that heavier drivers are put at a disadvantage.
There will also be tweaks to the technical rules to prevent the front part of the chassis climbing too steeply.