NASCAR revamps qualifying format with knockout system for 2014
| | |
| --- | --- |
| By Mark Glendenning | Wednesday, January 22nd 2014, 22:22 GMT |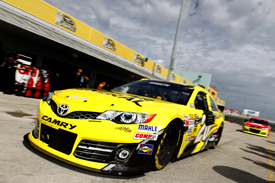 NASCAR has announced a dramatic overhaul of its qualifying system in an attempt to enhance the experience for fans.
Under the new system, the grid for races at tracks of 1.25 miles or longer will be set via a three-round knockout format rather than the previous single-car method.
The first segment will be 25 minutes in duration and be open to all cars/trucks, with the fastest 24 progressing to the next phase.
They in turn will run for an additional 10 minutes, at the end of which the fastest 12 will move on to a final five-minute all-in round. There will be a five-minute gap between each phase.
A two-round format will be used at shorter tracks, starting with a 30-minute session for all entries, with the fastest 12 progressing to the 10-minute final phase. There will be a 10-minute gap between the two rounds.
The system, which will be deployed in all three of NASCAR's national championships, will not apply to the Daytona 500, nor to non-points Sprint Cup races or the Truck event at Eldora Speedway.
NASCAR vice-president for competition and racing development Robin Pemberton said that the change comes with the support of the teams, and that he expects it to be well received by fans.
"This style of group qualifying has all the makings of being highly competitive and more engaging to our fans in the stands and those watching on television and online," he said.
"For the drivers and teams, we believe this new qualifying will fuel even greater competition leading into the events.
"Additionally, it provides our tracks, broadcasters and other key partners with a greater opportunity to develop more entertaining content for our race weekends."