Daytona Prototypes pegged back in United SportsCar tweaks
| | |
| --- | --- |
| By Gary Watkins | Saturday, January 18th 2014, 11:26 GMT |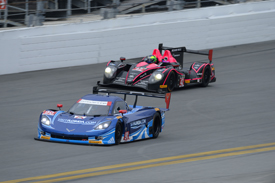 The performance of the Daytona Prototypes has been pegged back ahead of next weekend's Daytona 24 Hours.
The DPs, which go up against LMP2 machinery in the new United SportsCar Championship's Prototype class, have been given small-diameter engine air-restrictors to reduce their top-speed advantage after the official pre-Daytona test earlier this month.
Scot Elkins, technical boss of USC sanctioning body IMSA, said: "The balance wasn't quite close enough, so what we are doing is making a very slight power reduction to the DPs to try to close the gap a little bit to the P2s.
"We had a relatively significant lap time difference and we also had a difference in terms of top speed, so hopefully the power adjustment will compensate for that a little bit."
The diameter of the restrictors has been reduced by approximately 3.5 per cent, which the teams and engine suppliers believe will equate to a five per cent reduction in power and slower top speeds of between three and five miles per hour.
DP TEAMS DISAPPOINTED
Wayne Taylor, whose eponymous team is running a Dallara-Chevrolet Corvette DP in the USC, expressed disappointment with IMSA's move.
"I am a little bit disillusioned that we have effectively had to build a new car to go as fast as an LMP2 and now we are having to spend money to slow ourselves down," he said.
"I think this hands the P2s a clear advantage."
IMSA has also reduced the fuel capacity for the LMP2s after they went up to three laps further than a DP on a tank at the test.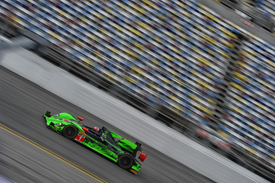 The capacity for P2 has been reduced from 75 litres, the size of the tanks under Automobile Club de l'Ouest rules, to 72 litres.
Combined with the reduction of power for the DPs, this should result in a similar length of stint between the two types of car.
The rate of refueling for the P2s has also been adjusted to ensure that they can take a full load of fuel in the same time as the DPs, which have a capacity of 76 litres.
The restrictor sizes for the P2s will remain the same as at the Daytona test with the exception of the HPD twin-turbo V6, which was allowed to run various sizes to help IMSA gather information.
The HPD runs a restrictor approximately six per cent larger than under ACO rules and the Nissan five per cent.