X-raid's Stephane Peterhansel and Nani Roma play down Dakar orders
| | |
| --- | --- |
| By Pablo Elizalde and Matt Beer | Friday, January 17th 2014, 20:09 GMT |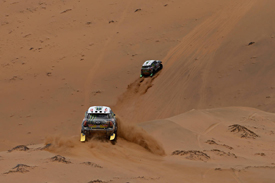 Stephane Peterhansel said he did not disregard any team instructions as he passed X-raid team-mate Nani Roma to reclaim the Dakar Rally lead.
X-raid had asked its drivers to back off on Wednesday night, just as Peterhansel closed back onto Roma's tail having been delayed in the opening week.
Peterhansel described the decision as "frustrating", but eased off and fell nearly six minutes behind on Thursday.
However he then won Friday's penultimate stage to take a 26-second advantage over Roma into Saturday's short run to the finish.
Roma had been slowed by a puncture and then became stuck on a dune, rejoining behind Peterhansel on the road but declining his team-mate's invitation to pass.
"I don't know what happened but the speed was not very good for the guys in front," said Peterhansel.
"We overtook Nani - I think he had a puncture because he was really slow.
"At the end I stopped on the dunes to show him that if he wanted to he could go past, but he didn't want to open the way on the dunes.
"So I opened on the dunes and finished very calmly."
Roma insisted there was no controversy.
"The race is open. There's a 20s gap, so it's open. Tomorrow we'll see what happens," he said.
"It's what I was saying yesterday. I said there were no orders, and today you've seen that.
"Right now we are here, we are alive and we'll see what happens tomorrow."