New WTCC rules a big opportunity for Lada, says James Thompson
| | |
| --- | --- |
| By Sam Tremayne | Thursday, January 16th 2014, 12:35 GMT |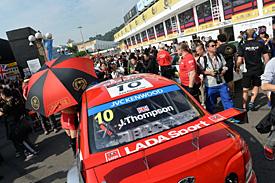 The World Touring Car Championship's switch to new regulations for 2014 represents a massive opportunity for Lada to make progress, according to long-term driver James Thompson.
Lada joined the series as a full works effort for the start of the 2013 campaign, but was restricted to a handful of top six finishes.
In contrast, every other make won at least once, with manufacturer rival Honda triumphing four times over the season.
But Thompson feels that dynamic could change significantly in 2014, with the series' all-new regulations giving Lada vital freedom in design areas that held proved restrictive last year.
"For us the new regulations represent an opportunity to make a significant step forward in narrowing the gap to our competitors," he said.
"We are now allowed much more freedom for suspension design, which was a real hindrance for us.
"But in saying that, we must produce the right solutions and this is why we tested components last year in preparation for 2014 - and we know they were a large step in the right direction."
Thompson said the fact only Citroen has started testing - Lada has set a target of mid-February for its first runs - means it will take a few races to form a definitive picture of the 2014 grid.
He said the arrival of 2012 WTCC champion Rob Huff was a major statement of intent on Lada's behalf however, adding: "Welcoming a former world champion into our team is raising our stature once more.
"We have worked together on and off, even in adversity, for quite a long time and it's been a privilege for me to be here from the very beginning. Now we are really starting to grow and develop as a team.
"The competition will be fierce, with nobody knowing where they stand I guess till after the first few races.
"It's my 20th year in touring cars, my 40th birthday coming up and I want nothing more than to see our project move to another level and achieve what we set out to do: establish Lada as WTCC race winners."