Nico Muller given Audi DTM seat as Filipe Albuquerque heads to LMP1
| | |
| --- | --- |
| By Glenn Freeman | Thursday, January 16th 2014, 11:09 GMT |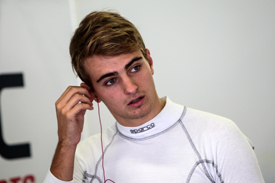 Audi has signed Nico Muller to replace sportscar-bound Filipe Albuquerque in its DTM line-up for 2014, while the Portuguese racer will make his Le Mans 24 Hours debut.
Muller, a race winner in GP3 and Formula Renault 3.5 in recent years, has tested for Audi in the past, and his performances at the wheel of an old DTM car convinced the team to sign him for 2014.
The Swiss driver fills the seat vacated by Albuquerque, who will focus on an endurance programme that includes making his Le Mans 24 Hours debut for Audi.
Audi head of motorsport Wolfgang Ullrich said: "We've been watching Nico's career for some time now.
"He completed a few hundred test kilometres in our DTM cars and left an outstanding impression.
"I'm confident it won't take him long to fill the gap that has been created by Filipe Albuquerque switching to our LMP and GT programme."

Muller's complete career stats on FORIX
Audi's DTM boss Dieter Gass added that he expects the 21-year-old to "cause a surprise now and then in his rookie season".
Speaking about landing the drive, Muller said: "The DTM is on practically every driver's wishlist.
"It's a great honour for me that Audi is placing the trust in me to compete in an RS5 DTM.
"I watched the series even as a child, and I've been dreaming about the opportunity to contest a race in such a car."
AUTOSPORT SAYS
Glenn Freeman, News Editor - @glenn_autosport
Nico Muller's single-seater career to date has been a tale of making the best of his circumstances, and given his performances in GP3 and FR3.5 over the last four years, he deserves a crack at a works drive.
A glance at his results over those years show three wins in GP3 and two in FR3.5, with championship finishes of third, fourth, ninth and fifth.
That's hardly a startling record, but over those seasons Muller proved he could be a thorn in the side of the top talents on the junior ladder, even if he rarely had the equipment to compete with them on an even footing.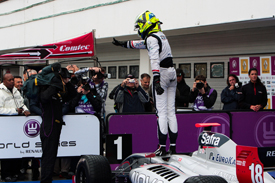 In his time with Jenzer Motorsport in GP3, and Draco in FR3.5, he also proved on numerous occasions that he could lead the direction of those teams over the course of a season - a skill that meant he usually finished the year with a quicker car than he started it with.
When I spoke to Muller about Audi's interest in him towards the end of 2013 he admitted that - prior to his testing last summer - he struggled with the notion of giving up on Formula 1.
That all changed once he'd got some proper mileage in the car, and a works drive in one of the most competitive championships in the world is surely a better option than scrambling together a million-or-two Euros to run in the GP2 midfield.
Credit must also go to Audi for looking beyond the results sheets and giving Muller a chance. He's paid his dues on the ladder, and now all that effort has been rewarded.