Allan Simonsen's Rosso Verde team returns to British GT with brother
| | |
| --- | --- |
| By Scott Mitchell | Thursday, January 16th 2014, 10:47 GMT |
Rosso Verde will return to British GT this season, for the first time since the death of long-time driver Allan Simonsen at the 2013 Le Mans 24 Hours.
Simonsen's younger brother Benny will make his series debut for the squad alongside Hector Lester (pictured with Allan), whose team is planning a full campaign for its Ferrari 458 Italia GT3.
Lester partnered Allan Simonsen in British GT for 10 years but pulled his team out of the championship in the wake of his fatal accident at La Sarthe last June.
Lester will now partner the Dane's 30-year-old brother, who has raced in a variety of tin-top series and made his World Endurance Championship debut in Bahrain in 2012.
The team hopes the Simonsen family will be present at the opening round at Oulton Park in April, where Lester and Allan Simonsen took a victory in last season's curtain-raiser.
"It just makes us very comfortable doing what we're doing; it's hard to put a rationale on the whole thing," Lester told AUTOSPORT.
"Allan was very special to us. He was the team, he was Rosso Verde.
"It's left a massive hole but Benny makes splitting from him less painful."
Given the younger Simonsen's inexperience, Lester says he will not face added pressure from the team and there will be no expectations of him replicating his brother's ability to challenge for wins immediately.
"Benny is very keen to see what he can do," Lester added.
"He's been dropped in at the deep end but we believe he's got great ability. We'll give it the absolute best shot we can."
AUTOSPORT SAYS
Ben Anderson, National Editor - @BenAndersonAuto
It's fantastic to read such a feel-good story so early in the New Year.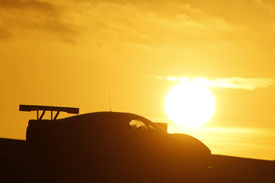 Hector Lester is a stalwart of British GT, and one of the nicest gentleman drivers in the sport.
When Allan Simonsen lost his life during last summer's Le Mans 24 Hours, Lester was rocked to his core.
The Dane had been a key part of their British GT partnership, and it seemed likely his passing would spell the end for Lester's Rosso Verde team, too.
Lester said it would "break his heart" to come back to British GT in 2013, but by linking up with Allan's brother Benny, Hector has found the perfect way to honour the late Simonsen's memory, and continue doing what Allan would have wanted him to do - race.
We wish them all the best.