Matt Rao first UK driver to commit to 2014 British F3 with Fortec
| | |
| --- | --- |
| By Marcus Simmons | Wednesday, January 15th 2014, 15:33 GMT |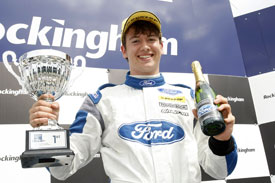 Formula Renault BARC graduate Matt Rao has become the first UK driver to commit to the revamped British Formula 3 International Series in 2014.
The 19-year-old, who won the Duratec class of the 2012 British Formula Ford Championship and took a podium finish in Renault BARC last season, will compete with Fortec Motorsport.
Rao joins former Renault BARC rival Martin Cao in the Fortec British F3 line-up, which could consist of four Dallara-Mercedes F312s.
He joins the team after four days of testing during the winter - two at Anglesey and two at Barcelona - and is currently in New Zealand contesting the Toyota Racing Series.
Team manager Dan Mitchell said: "Every time Matt has got in the car he's gone better and better.
"He's learned the circuits in BARC Renault, and we think he's a pretty good prospect for British F3."
Mitchell, 23, is one of two new team managers appointed to the Fortec F3 stable as former incumbent Andi Scott is departing to work on Red Bull's junior-driver and simulator programmes.
After a fast rise through the Fortec ranks, Mitchell became team manager of its Renault BARC squad last season.
Russell Dixon, who engineered and managed Alex Lynn and Oliver Rowland to a one-two in the 2011 Formula Renault UK Championship, and has engineered for the squad's F3 team since 2012 (when he again ran Lynn), has taken over the F3 European Championship arm.
AUTOSPORT SAYS
Marcus Simmons, Chief sub-editor - @MarcusSimmons54
So, how is 'cut-price' British F3 shaping up for 2014?
Not too badly - and certainly much better than 'bells-and-European-whistles' British F3 was at this time last year.
Fortec have announced two drivers, and the squad is hopeful completing all four by the end of next week.
Double R Racing declared Andy Chang earlier today, and team boss Anthony 'Boyo' Hieatt is understood to be very close to confirming two more of what could also be a four-car line-up.
Meanwhile, the biggest member of British F3's 'big three' - multiple champion squad Carlin - is looking good for two. CF Racing is also hopeful of fielding a couple of cars.
That's a good foundation to build upon in a crucial year for British F3.
And, if other projects such as JTR and Dan Cammish come to fruition, and some other competitors can be found to contest the other classes (such as, for example, European F3 Open squad Team West-Tec running a parallel programme in the National Class), then the grids will be looking reasonable.
OK, they won't be as good as the F3 European Championship, but that's not what British F3 is about anymore.
Look upon it, instead, as a feeder to the category's top level.