Rusty Wallace to test Brad Keselowski's Penske Ford NASCAR
| | |
| --- | --- |
| By Mark Glendenning | Wednesday, January 8th 2014, 17:31 GMT |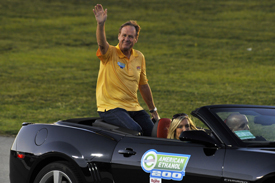 Rusty Wallace, the 1989 NASCAR Cup champion, will make a brief return to the cockpit when he drives Brad Keselowski's #2 Penske Ford at Daytona on Thursday.
The run during NASCAR's 'Pre-season Thunder' official test will mark Wallace's first appearance in a Cup car since his retirement in 2005.
The 57-year-old told the official NASCAR website that the opportunity to get back behind the wheel started out as a joke.
"It all started at Homestead I was standing between the #48 [Jimmie Johnson] and #2 [Keselowski] cars, joking around, and those guys were egging me on to get back in a car," Wallace said.
"When Brad got wind of it, he called me up two weeks later and was serious about it and Roger [Penske] was all for it.
"Everyone in the world has been on me to test. 'Why haven't you been back in a car?' This here kind of got me."
Wallace, who will run a special retro livery for the test, was required to undergo all of the standard NASCAR requirements prior to the getting back into the cockpit, ranging from a full medical evaluation (including baseline concussion scans and a drug test) to obtaining a new licence.
Now a commentator for ESPN, the 55-time race winner believes that his experience with Keselowski's car will help him to broaden his understanding of the current generation of NASCAR's Gen-6 cars.
"I think it'll help my TV stuff and I'll have a more in-depth knowledge of what the car feels like," Wallace said. "I don't know of any other analysts that are doing this right now.
"This will give me an opportunity to validate a lot of the stuff I say on air."