Honda believes it can claw back Citroen during 2014 WTCC season
| | |
| --- | --- |
| By Sam Tremayne | Friday, January 3rd 2014, 10:38 GMT |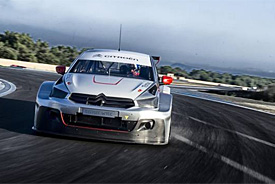 Honda is confident it can claw back Citroen's current advantage and regain supremacy over the 2014 World Touring Car Championship campaign.
William de Braekeleer, Honda's motorsport manager, conceded that it could be hard to stop the French firm in the early rounds given its headstart in building and testing its 2014 challenger.
Citroen unveiled its C-Elysee car in July and has already conducted several tests with it. Honda, meanwhile, will not be able to test its car until this year.
De Braekeleer is confident however that Honda will gradually haul Citroen back in, predicting that the experience gained in 2013 will become increasingly important as the championship progresses.
"We know we have some delays in the development of the car compared to another competitor, so that might lead to a difference in competitiveness during the start of the championship," de Braekeleer told AUTOSPORT.
"But I am confident we can recover that during the season. We are not worried. "OK it is inevitably an advantage to start testing early, which we don't have.
"But we have other advantages: namely the experience of one year in the WTCC, which gives us data and also allowed us to refine our processes for next year."
De Braekeleer also played down the pressure of defending the 2013 manufacturers' crown, saying Honda's goals for the new season were focused more upon individual results than overarching success.
"The objective is to have more victories and podiums than this year," he added.
"Of course we will fight for the championship, but we'll focus on each race. If that leads to the championship, that is a bonus."