F1's manufacturer teams have huge advantage in 2014, says Ferrari
| | |
| --- | --- |
| By Jonathan Noble | Thursday, January 2nd 2014, 14:09 GMT |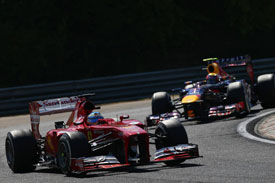 Formula 1's manufacturer teams will enjoy a huge advantage in 2014 because of the complexities of packaging the new power units, reckons Ferrari technical director James Allison.
As teams continue to work on getting their new cars ready for F1's first pre-season test at Jerez that starts on January 28, Allison is in no doubts that 'works' teams Ferrari, Mercedes and Red Bull will have the edge over customer outfits.
"One of the massive advantages that this team has is that it has the engine and chassis under one roof," said Allison, who rejoined Ferrari last year after a spell at Lotus.
"That is an advantage in any year. But in one like this one, where you are packaging such a different power unit as has been necessary in a year like this - that advantage I think becomes quite large."
Ferrari's engine chief Luca Marmorini suggests that too much focus has been placed on the competitiveness of the engines alone, and believes success will ultimately depend on how the whole car comes together.
"Probably too much [emphasis] has been given to the power unit," explained Marmorini.
"The power unit is a big change, but also it will be extremely complex to incorporate the power unit in a competitive car.
"For Ferrari, this has been a joint project [between chassis and engine departments].
"With the power unit project, it has been fundamental for reliability.
"Any decision in terms of the engine has been as a result of discussions with the chassis people, because in the end the car has to win, not just the power unit."